2 March 2021
Si, by the sea
When Alessandro Pavoni was choosing the name for his new Sydney restaurant, he wanted one that reflects the country he comes from as much as the city he now calls home. In a'Mare he found the perfect words. Meaning 'by the sea' in Italian, the name encapsulates the harbourside location of Crown Sydney as well as the waterfront Italian restaurants of his youthful memories. It also sums up the focus of Pavoni's menu, where fresh, local seafood is celebrated and presented in Italian-inspired dishes.
Sourcing lobster and seafood from the best suppliers in Sydney, including Martin's Seafoods and Poulos Bros Seafoods, Alessandro cites his personal relationships forged over many years. He knows many of the fishermen who ethically catch the fish that wind up on a'Mare's plates, conversing with the suppliers daily about their catch of the day. It's this old-school collaboration between producers and restaurateur that creates the finest experiences at a'Mare.
"Here we are on the water so it's very important that we have a very good seafood offering," Alessandro says. "Every dish I make, the whole menu here, reminds me of my childhood and is inspired by dishes that I ate in Italy."
Cicala alla Catalana
Moreton Bay bug, Sardinian salad of pickled Spanish onion, celery, tomato, basil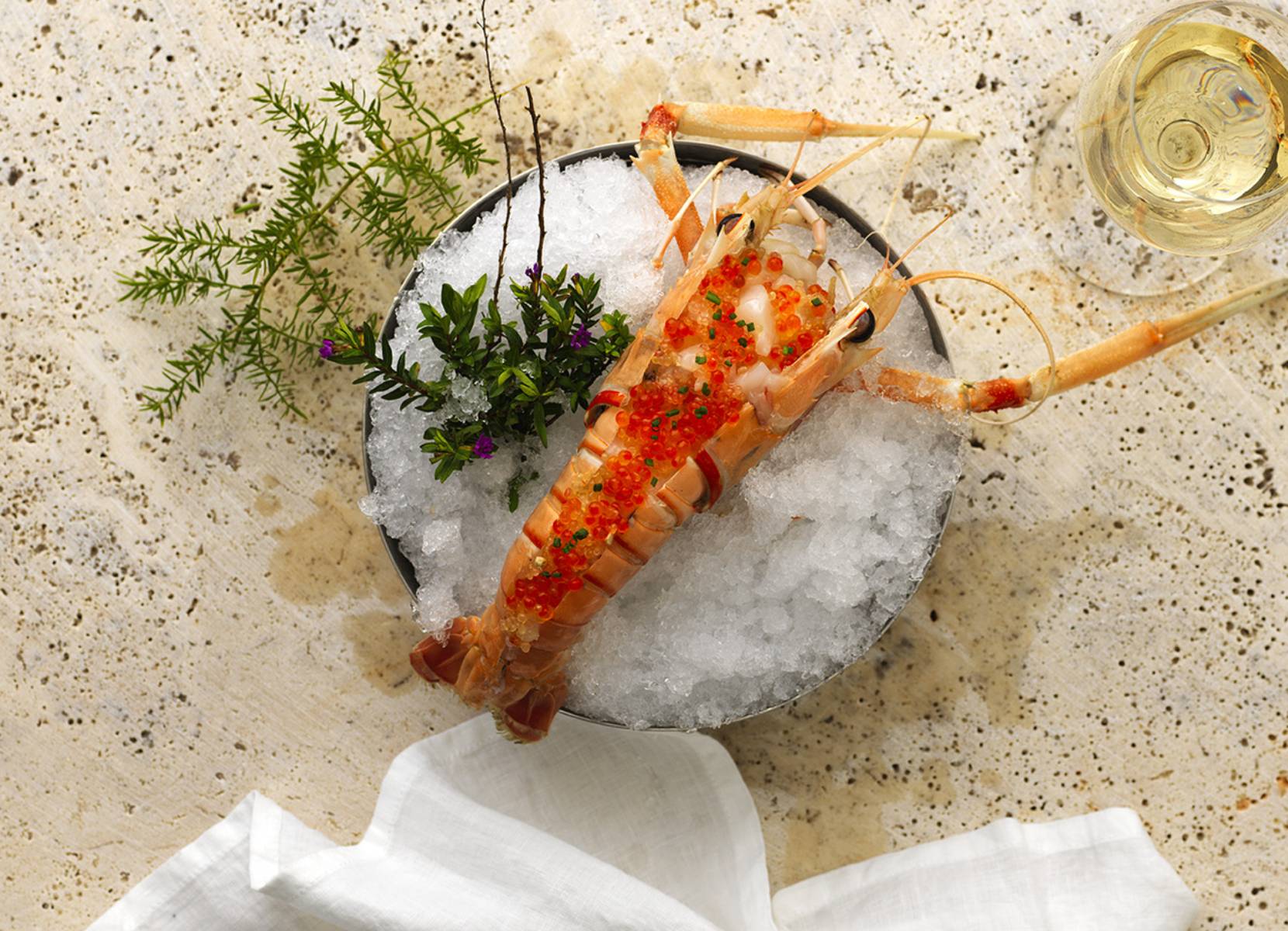 While traditionally Italian in its inspiration, Alessandro promises a uniquely Sydney feel to the fare, making it fresh and palatable for a modern Australian audience. Diners might start, for example, with the Cicala alla Catalana. Chefs prepare luscious Moreton Bay bugs over hot coals and serve with a zingy salad that is a staple in Sardinia. "This salad of Spanish onion, pickles, celery and tomatoes is always made on the west coast of Sardinia, where they were very influenced by Spanish traditions," Alessandro explains.

"The philosophy of true Italian cuisine is to use ingredients sourced from as close as possible to the restaurant."
The geographical culinary tour continues into main course, with the heralded Spaghettone a'Mare: al dente spaghetti from Umbria served with Eastern Rock lobster, cherry tomatoes, garlic, basil and chilli. Known for championing local produce, Alessandro sources the lobster from Red Claw Seafoods at the Sydney Fish Market. "The dish is out of control popular," Alessandro says.

To honour the fresh-from-the-sea cuisine of northern Italy, a'Mare offers a deceptively simple Risotto nero e bianco. Featuring aged carnaroli risotto, southern calamari and their ink, Franciacorta and Yarra Valley salmon roe, the dish is abundant with the sea's riches. It's been described as Venice on a plate.
Pesce intero alla brace
Whole fish caught ethically and sustainably from some of the country's best fisherman, served with puttanesca salsa of olives, tomato, capers and oregano
"I use as much as I can of the wonderful Australian produce — macadamias, meat and local burrata as well as the incredible seafood — because the philosophy of true Italian cuisine is to use ingredients sourced from as close as possible to the restaurant," Alessandro says. "Australian cuisine is defined a lot by the amazing produce."
Alessandro prides himself on training the waitstaff at a'Mare to present — and often prepare tableside — the daily supply of just-caught coral trout, snapper, red emperor and lobster in a fashion reminiscent of classic Italian dining.
"It's a skill set that's been lost, for front-of-house and wait staff to know how to fillet a fish or open up the lobster," he says. "With a'Mare we've really gone back to the history of dining, when service was a career and at the forefront of the experience."