16 February 2021
The art of burrata
Alessandro Pavoni's eyes light up when he talks about the Burrata Caprese on the menu at a'Mare. The fresh Italian cheese made from mozzarella and cream, filled with luscious stracciatella and hand-tied into a signature knot is a thing of beauty in this chef's eyes. Sourced from local cheesemaker, Vannella Cheese, the dish has become an instant classic on a'Mare's Antipasti menu.
To Alessandro, justice means training his waiters to skillfully unveil the burrata tableside, piercing the creamy orb with a theatrical flourish and then dressing it in the finest accompaniments. There's the salsa verde, the fresh pepper and salt, and finally the surprise of green tomatoes mixed in before the dish is served. Crunchy house-made focaccia begs to be dipped. It's a harmonious blend of classic Italian method and exceptional local produce.
"It's simple food, no? So it has to have the best of everything," Alessandro says.

A cheese steeped in fine Italian tradition, burrata has been masterfully handcrafted in Puglia for generations. It was there, in a town called Conversano, a young apprentice named Vito Minoia learned the fine art of bespoke cheese-making. As Vito practised tying the delicate knot on the burrata's crown, he also perfected the balance between sweet and salty in the deceptively simple process.
"We do the burrata justice here, because it's the best."
When Vito and his family moved to Australia, they brought the Puglian traditions with them. Marvelling at the quality of the milk in this new land, they knew they could create something special that had not been done here before. Bringing together old and new, they created Vannella Cheese. Dedicated to sourcing the very best milk for their handmade cheeses, they moved to Cairns to be close to dairy herds and buffalo. They were drawn back to Sydney to bring fresh cheese closer to the restaurants where it was celebrated.

"The milk they use comes from a single-origin farm, it's the best," says Alessandro. "It all starts with the milk, obviously."
To this day Vannella Cheese is a family-owned and operated affair. Founded on three generations of cheese-making experience in Puglia, they produce the highest quality handmade cheeses in Australia.
Burrata Caprese
Local burrata, salsa verde, green tomato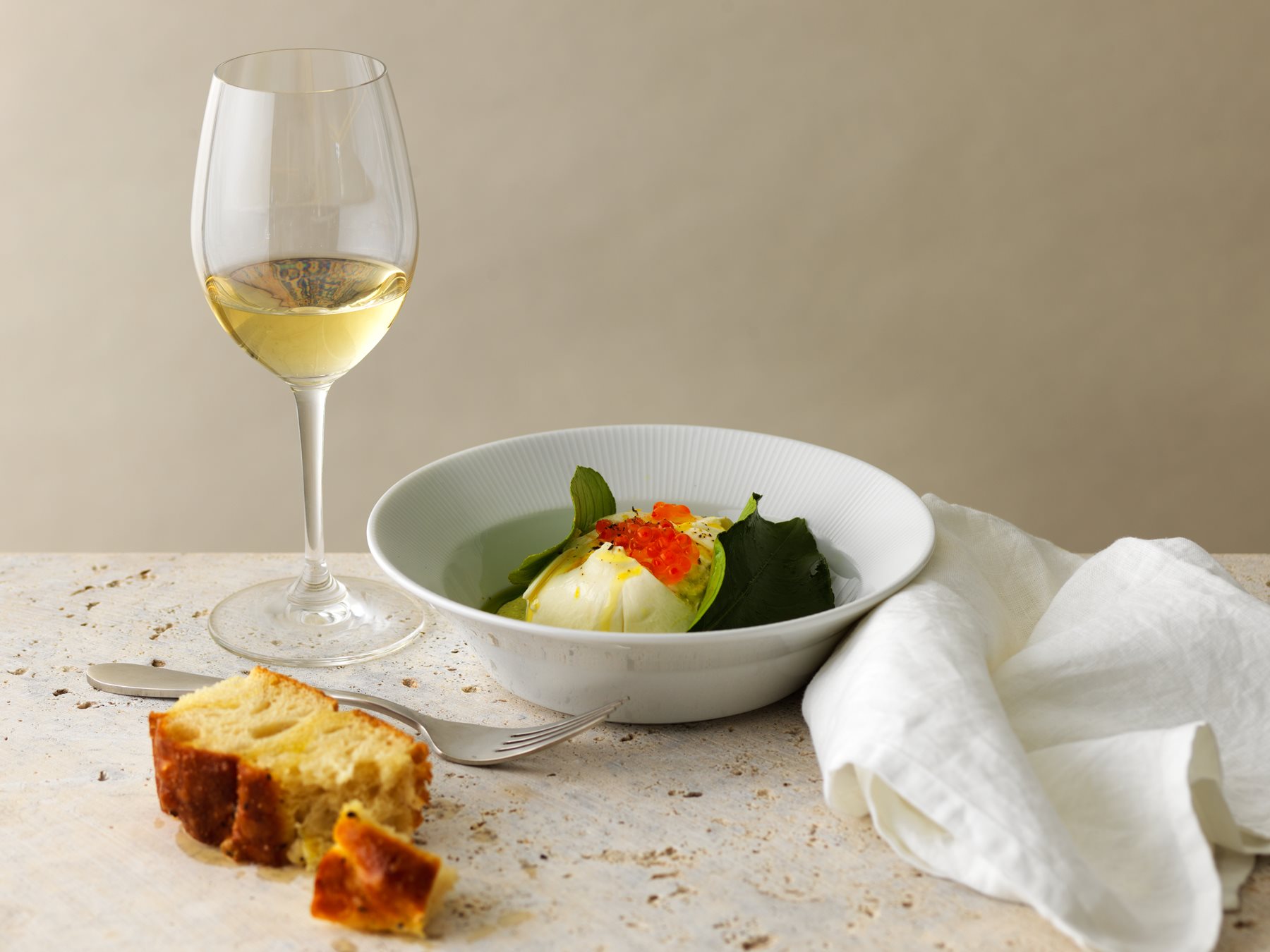 It's perhaps no coincidence that Alessandro and Vito have been friends for 20 years. Both proud Italian-Australians, their friendship was forged from a mutual love of incredible, fresh produce. When they first met, Vito was making burrata as a sideline hobby. Alessandro was working at an Italian restaurant in Leichhardt. Two decades ago, the palate of most Sydney diners had not yet caught on to the wonders of fresh Apulian cheese. Today, burrata is so popular on Alessandro's menu, the family members of Vannella Cheese work hard to keep up with the demand.

"It's a true family business that's not interested in becoming bigger and more industrial because it would lose the personal touch," Alessandro says. "They focus on what they do so well, which is making the best burrata, the stracciatella, the mozzarella."
Alessandro is proud to showcase his friend's beautifully balanced and creamy burrata at a'Mare. It's all part of his plan to bring back the best of simple, authentic Italian cuisine.