1 February 2021
The pesto heroes of a'Mare
In order to become a 'pesto hero', the waiters of a'Mare undergo rigorous training in the fine art of gueridon service. Known in other words as 'finishing at the table', it's a mostly lost art that Alessandro Pavoni is determined to bring to Sydney fine dining. He says it reminds him of the good old days in Venice and Milan, of highly skilled professional waiters whose lifelong job it was to add the finishing touches to dishes right before they were served.
"It's exciting for the front of house team because it's skills we don't really see anywhere anymore, let alone do anywhere," Alessandro says. "It's a new and exciting experience for Sydney diners. It transports you to a different place, the old school Italian experience."
Waiters at a'Mare play a central role in the dining experience, often exceeding even their own expectations as they expertly open creamy burrata tableside, serve gelato or prepare classic pesto to envelop the signature pasta dish, Trofie al pesto.
"It's a mistake to think of front-of-house people as runners, who merely run the food to the table," he says. "At a'Mare they hugely influence the diners' experience, they take centre stage."
Trofie al pesto
Trofie pasta, pesto of basil, macadamia nuts and pinenuts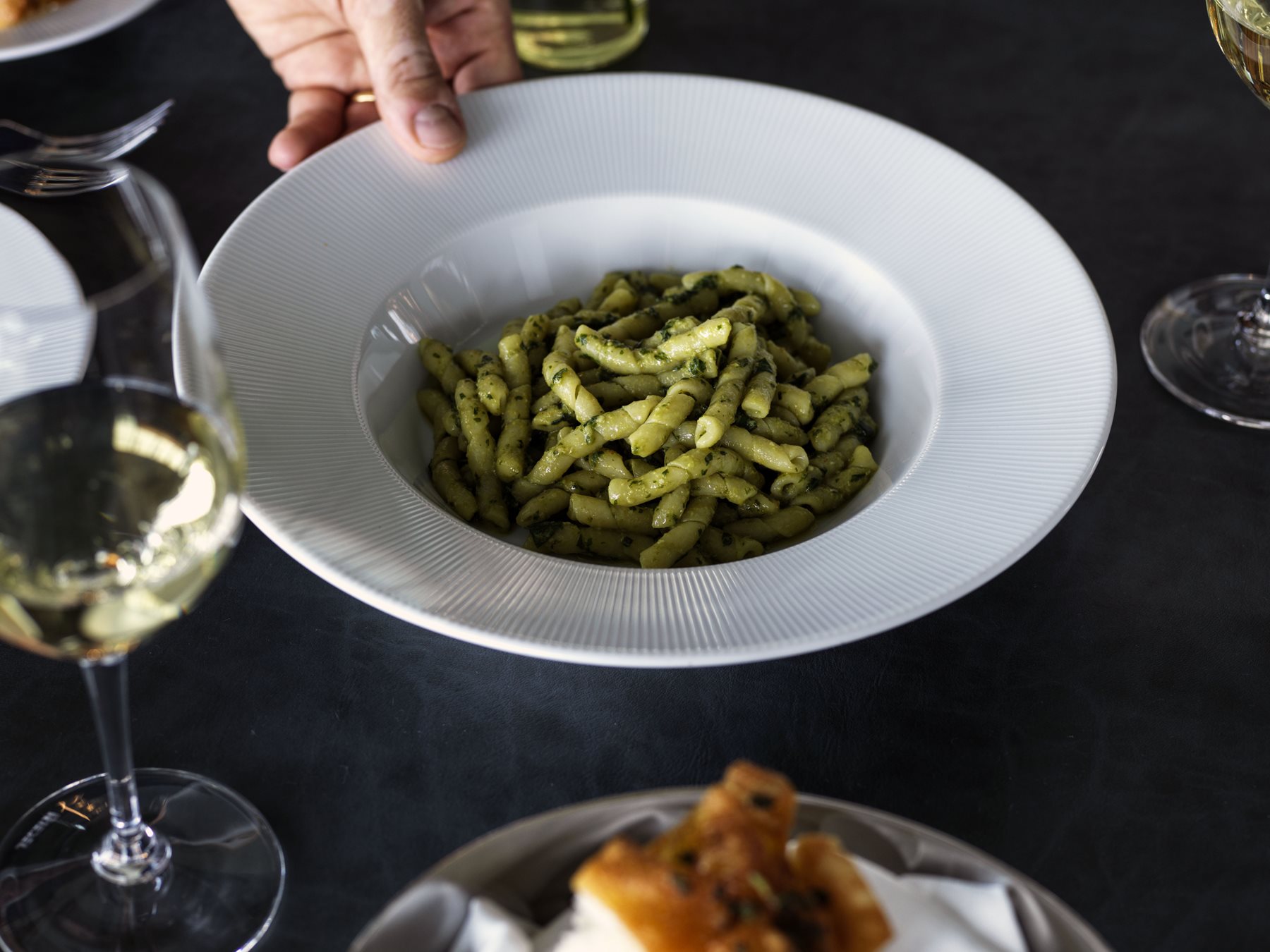 Working from custom Woodman trolleys, the a'Mare waiters use pestles to pound macadamias, pine nuts, garlic, Genovese basil, Parmesan and olive oil in made-to-order Carrara marble mortars that weigh 30 kilograms. It's as fresh as it gets, the intense aroma of the macerated basil arriving before the dish on the table. "In the restaurants in the Italian region of Liguria and its capital Genoa, they do pesto just before you finish cooking the pasta because the flavour and taste is so much fresher," Alessandro says.
The marble comes all the way from Liguria — "where Michelangelo got his marble" — and the pestle is made from the trunk of olive trees, its grain positioned in a certain direction so it creates the right abrasion for the basil to release its oil without oxidising. No detail is overlooked.
"It's a new and exciting experience for Sydney diners. It transports you to a different place, the old school Italian experience."
The bespoke wooden trolleys that claim centre stage in the restaurant were made on the Northern Beaches by master craftsmen at Woodman Designs. Alessandro calls the craftsmanship "amazing" and says it is local collaborations like this that make his restaurant special. He worked tirelessly with the wood artists to bring the vision to life.
Moving between the tables and preparing the pesto to order — often up to 30 times in one service — the waiters are nimble and skilled to finish the just-made pasta dish tableside. They have less than five minutes to get it on the table.
"It has to be fast and efficient as well as delicious," Alessandro says. "We've started to get 'pesto heroes', that's what we call them, some of the guys in the team who are very good and very fast."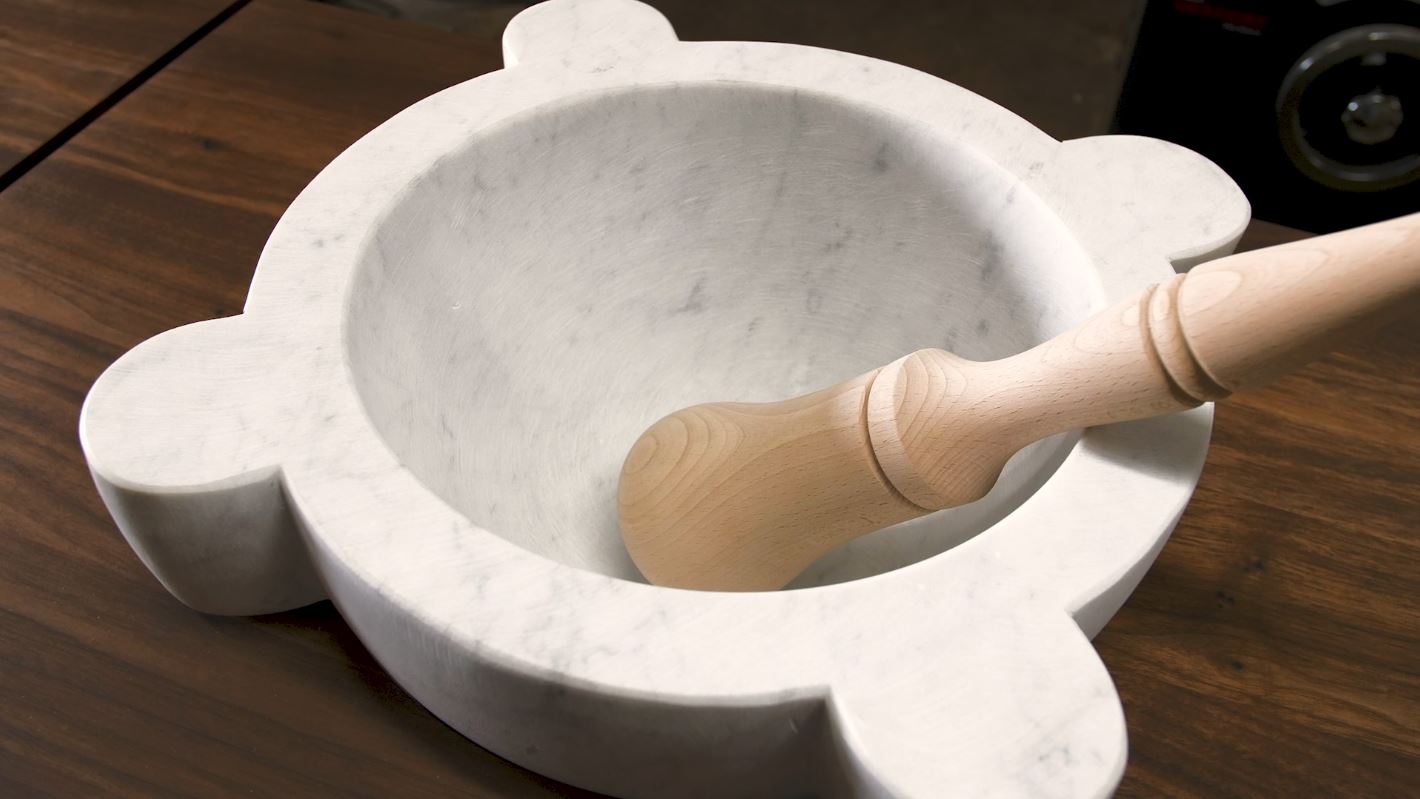 When he thought about creating a'Mare, Alessandro imagined bringing back the authentic Italian cuisine and the theatre that he wanted people to experience. His vision is to recreate the glamour of a time when people used to really get dressed up, not just to go out to eat, but for dinner as a memorable event.
"Me and my parents, once in a while, we'd get all dressed up, get in the car and go out for dinner on Lake Garda," he says. "There were glamorous villas and some fantastic restaurants built there. Then you go in the restaurant and you feel at home, like part of the family. The beauty of seeing these waiters moving around in their nice uniforms and preparing dishes with very high skill! I've never forgotten it."
For the a'Mare experience, Alessandro says he has gone back to the past, eschewing 'modern, extreme' gastronomy and embracing authentic, traditional Italian traditions. He has tired of the highly technical and experimental style he once pioneered, finding comfort and joy in the culinary legacy handed down to him by his grandmother.
"Classics are timeless, they never really go out of style," he says. "I know there's an audience for this classic Italian dining and I will continue to do more. We can do so many things. It's so fun."