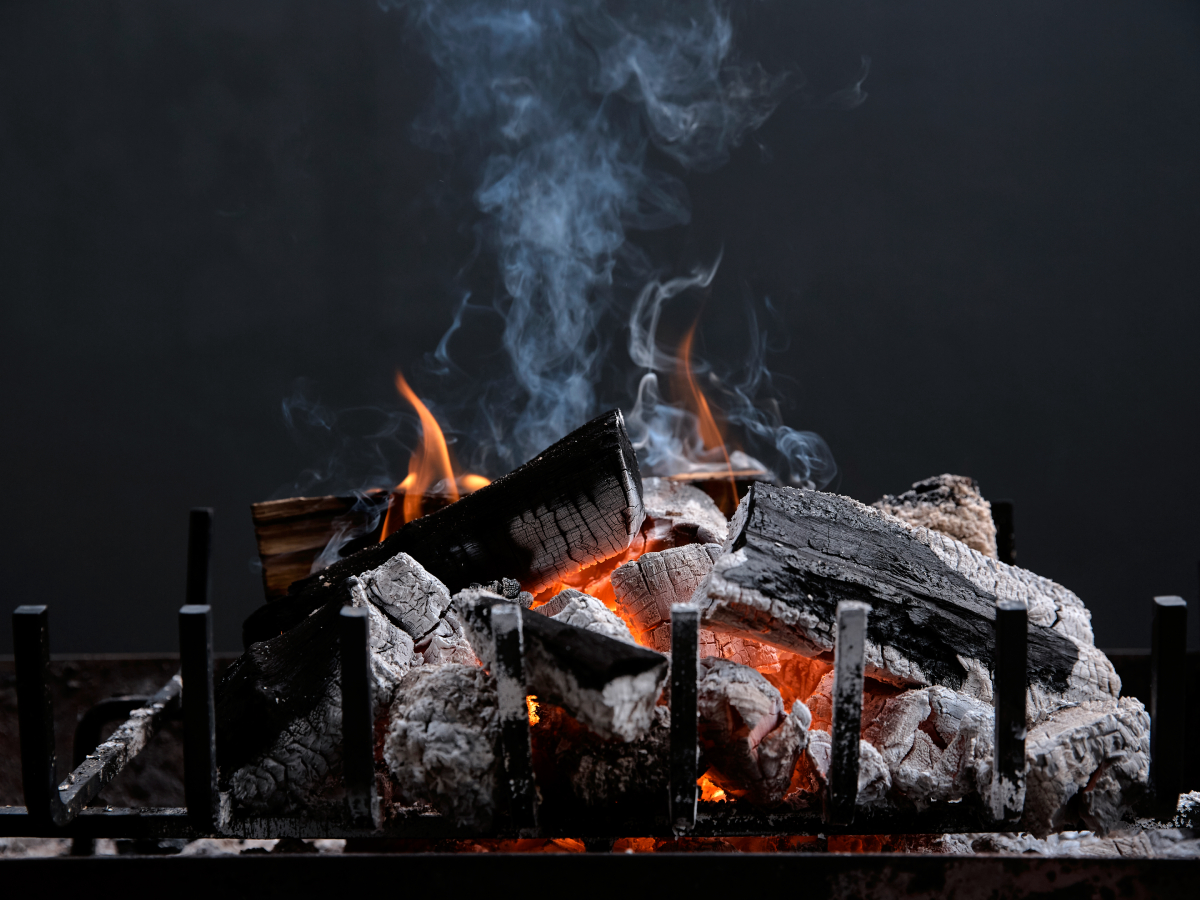 Sydney dining's award-winning couple, chef Ross Lusted and Sunny Lusted, have opened their latest restaurant, Woodcut at Crown Sydney.
Woodcut provides Sydneysiders with a unique dining experience that celebrates Australian produce and cooking with wood, charcoal and steam. This concept was inspired by Ross and Sunny's travels and the memories evoked by meals cooked in a slow wood burning oven or over an open fire, and the earthy flavours it creates.
+61 2 8871 7171
Booking Policy
Please note a 10% surcharge applies on Sundays and for groups of 10 or more, and a 15% surcharge applies on Public Holidays.
Read more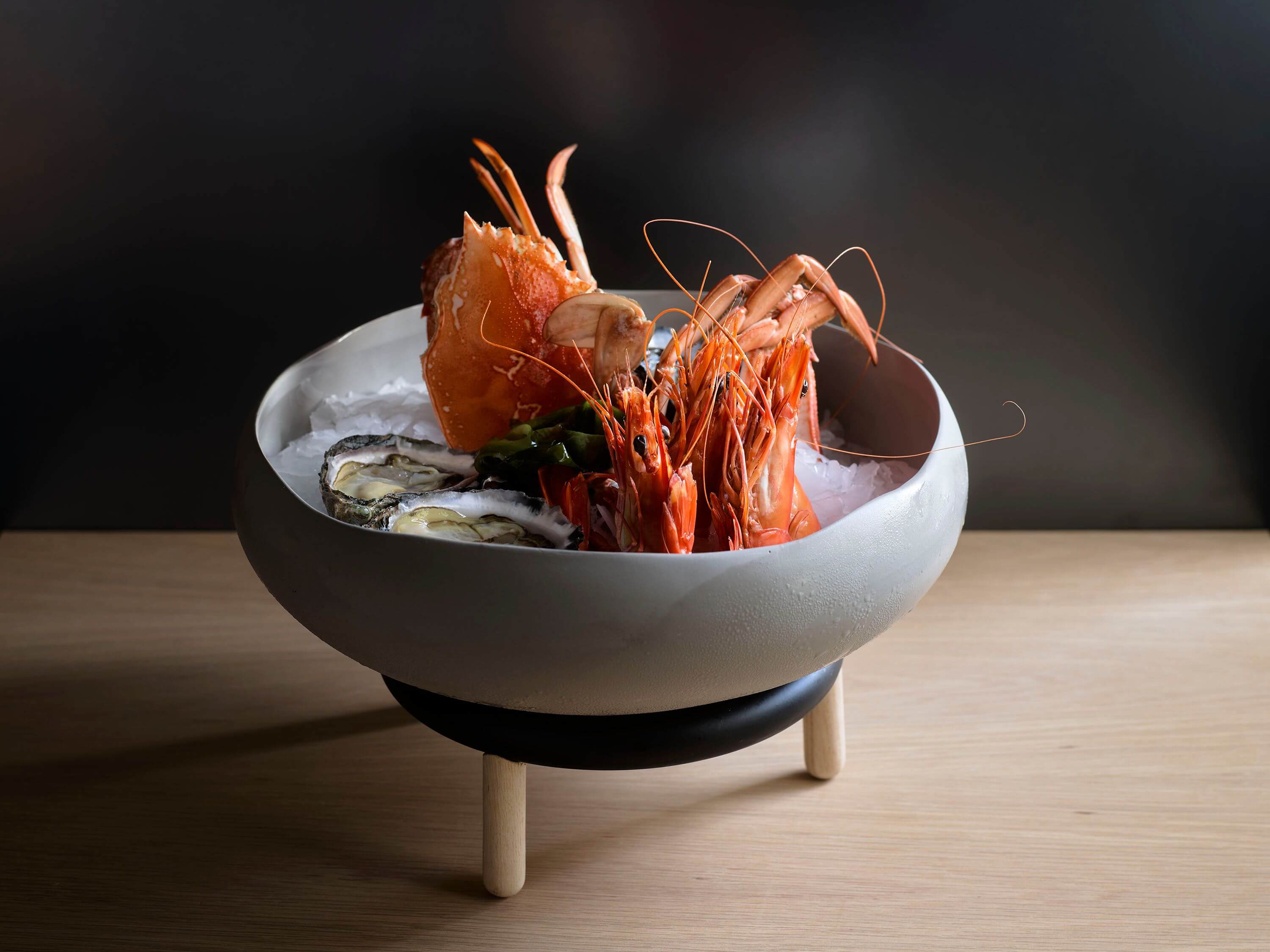 Mother's Day
Celebrate Mother's Day at Woodcut
Featuring four luxe open kitchens that emphasise the traditional methods of cooking using wood, charcoal and steam, a one-of-a-kind dining experience awaits at Woodcut, bound to delight Mum. Enjoy the finest Australian produce from the à la carte or Mother's Day additions menu, knowledgable service and harbourfront views, for a memorable celebration.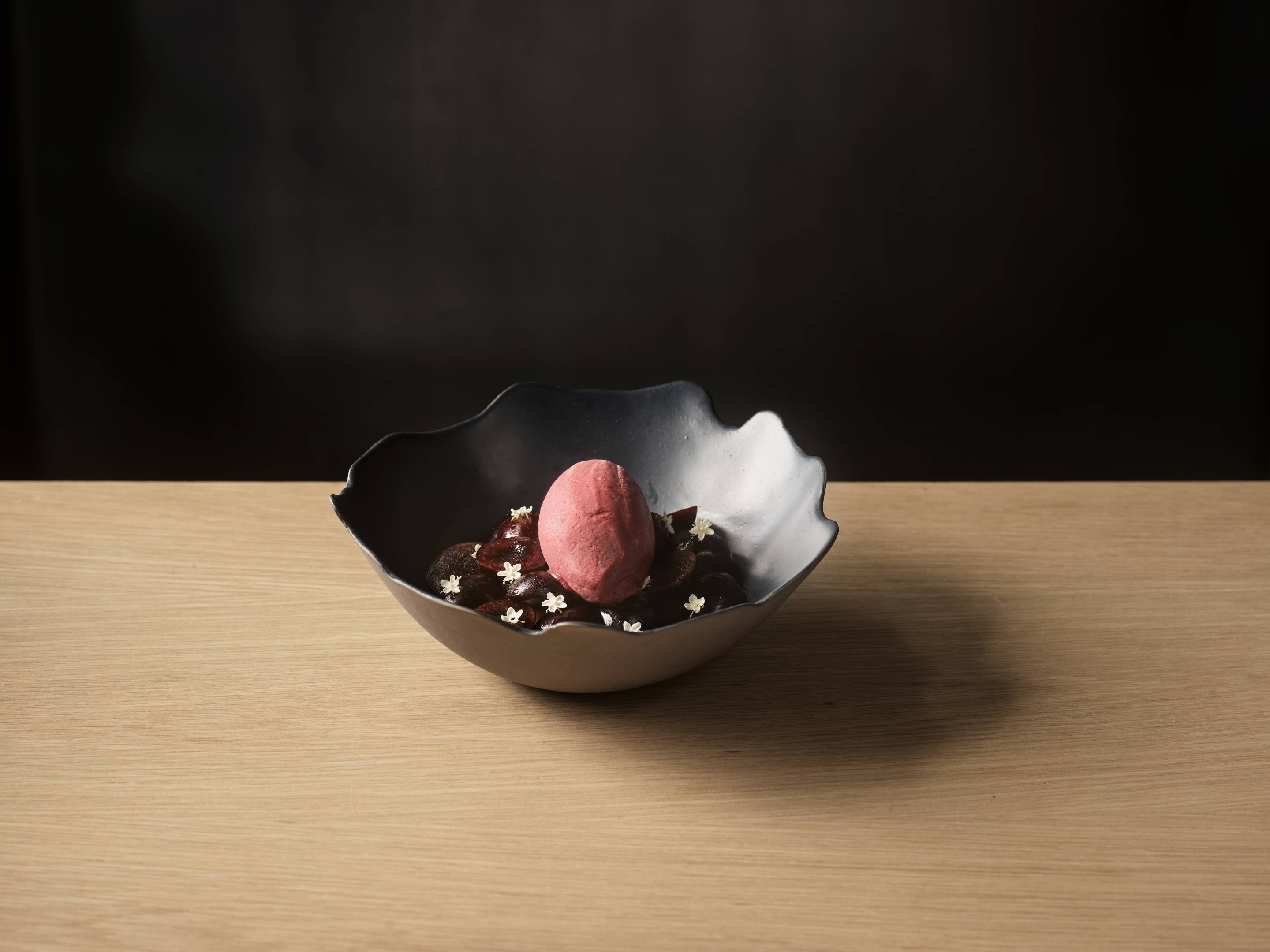 Food Philosophy
Unique dining experience
Lusted's culinary creations often stem from sketches he conceptualises on paper. It is these visual cues that inspire the dishes that take centre stage on Woodcut's daily changing menu. He is known for his deeply considered approach to the creative process and his commitment to heightening every layer of the guest experience.
At Woodcut, dishes are prepared in wood and charcoal grills, wood ovens and steam kettles. The earthy and sensory cooking methods impart a tangible element of flavour and authenticity to the cooking process. "Every person I know has experienced throughout their life and perhaps their travels, memories that are triggered by the experience of eating food cooked over fire. This rustic and traditional cooking source is so deeply satisfying and good for the soul… I have always been drawn back to this way of eating".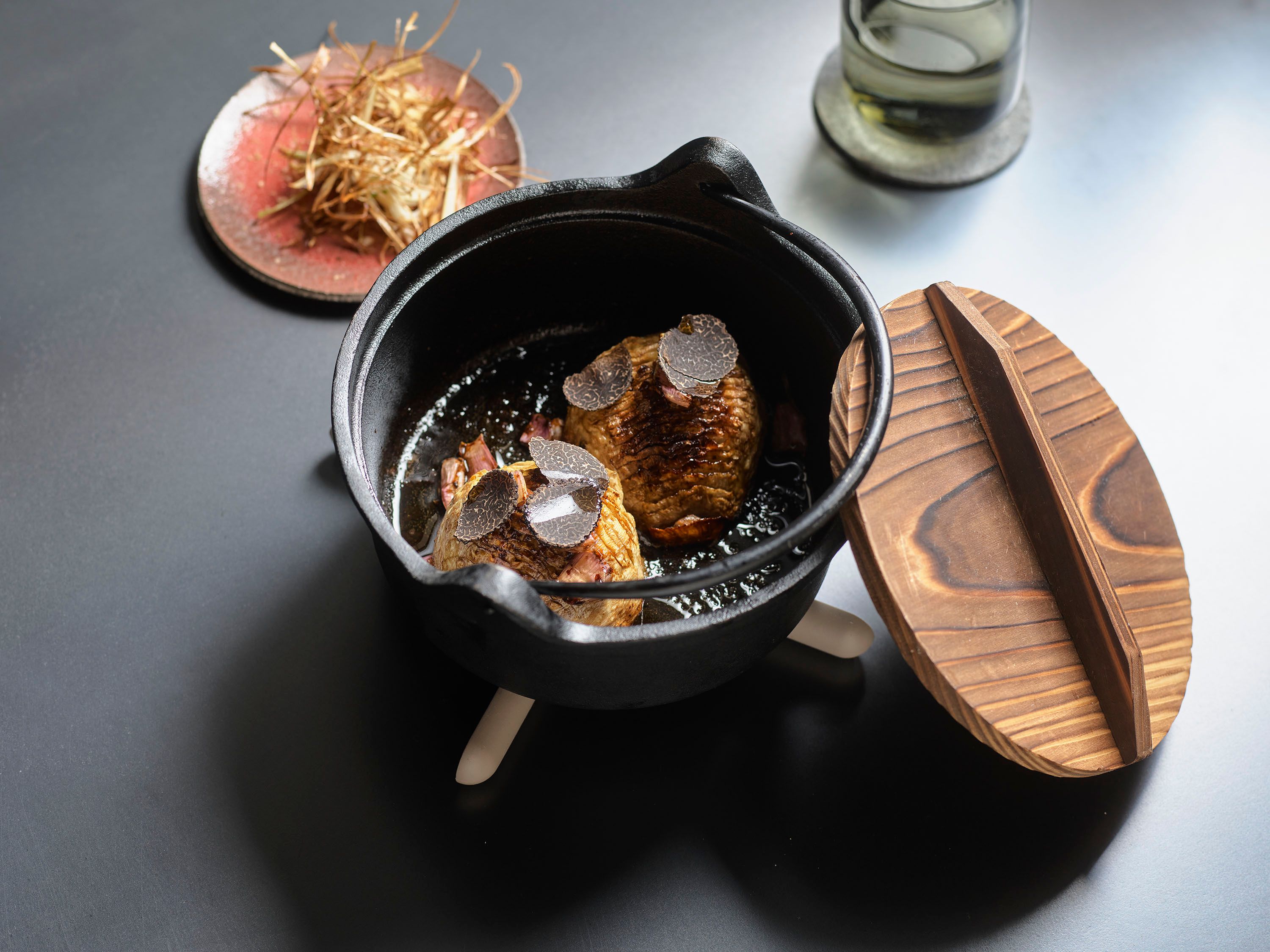 Private Dining
Private dining at Woodcut
Woodcut features two beautifully appointed private rooms and a Chef's Table plus numerous opportunities throughout the restaurant to secure partial hire of the dining room.
The Woodcut experience is ideal for private events, with considered spaces both indoor and on our water view Terrace which, combined with our warm and flawless service, is the perfect way to experience Woodcut. With over eight unique spaces, please contact our events team with your requirements and we can personalise the private dining experience to suit your occasion.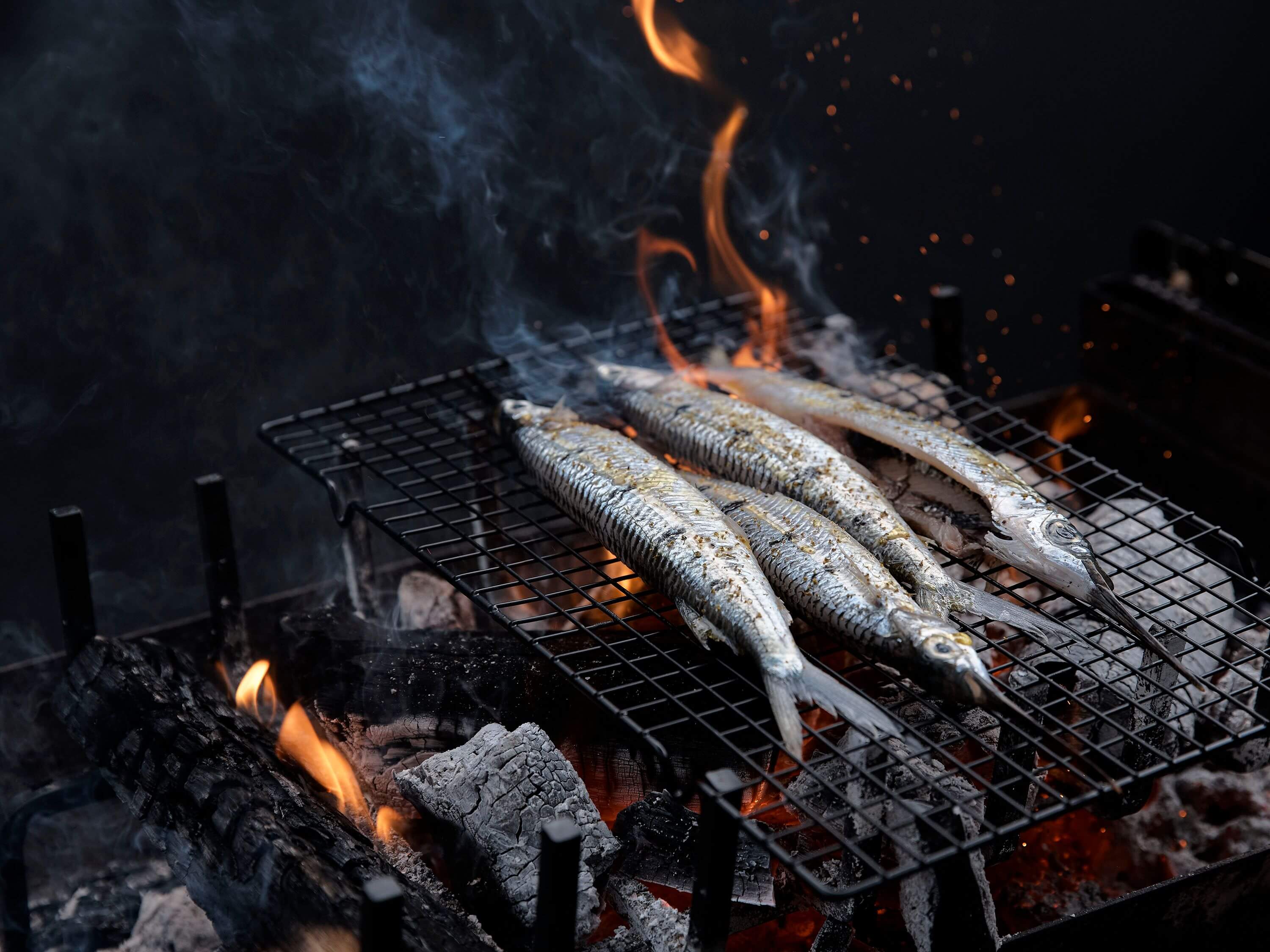 Experience
Guests will eat first with their eyes
Everything at Woodcut is a showcase, from the jewellery-case-like iceboxes featuring curated produce to Ross's vertical garden. Dining becomes an experience with guests drawn to order from what they see harvested by the Chefs in the open kitchen well before they see a menu.
Join us to experience the theatre of our four open kitchens, each centred on their own cooking method and anchored by counter dining, where guests will have a front row seat to "the show". Every detail of the Woodcut experience has been deeply considered and every seat at Woodcut is "the best seat in the house". Dine at The Counter for an intimate Chef experience or sit on The Terrace and soak up the atmosphere of the ever changing landscape and bustle of Sydney harbour. If you are travelling solo The Hickory Lounge is the social hub of Woodcut, this vibrant space enjoys spectacular waterfront views and is the perfect spot to enjoy a sunset cocktail or a relaxed lunch.
Chef
Ross Lusted, Chef at Woodcut
Acclaimed chef, sculptor, designer and restaurateur, Ross Lusted has distinguished himself in the culinary landscape through a thirty-year career that has earned him a myriad of highly regarded accolades such as Chef of the Year and Hottest Chef in Australia. Alongside his wife Sunny, Lusted's latest venture Woodcut has now launched as part of Crown Sydney's highly anticipated gastronomical line-up. "At the heart and soul of Woodcut is fire, steam, smoke and ice. Beautiful ingredients, simply cooked. The earthy and sensory cooking methods impart a tangible element of flavour and authenticity to the cooking process."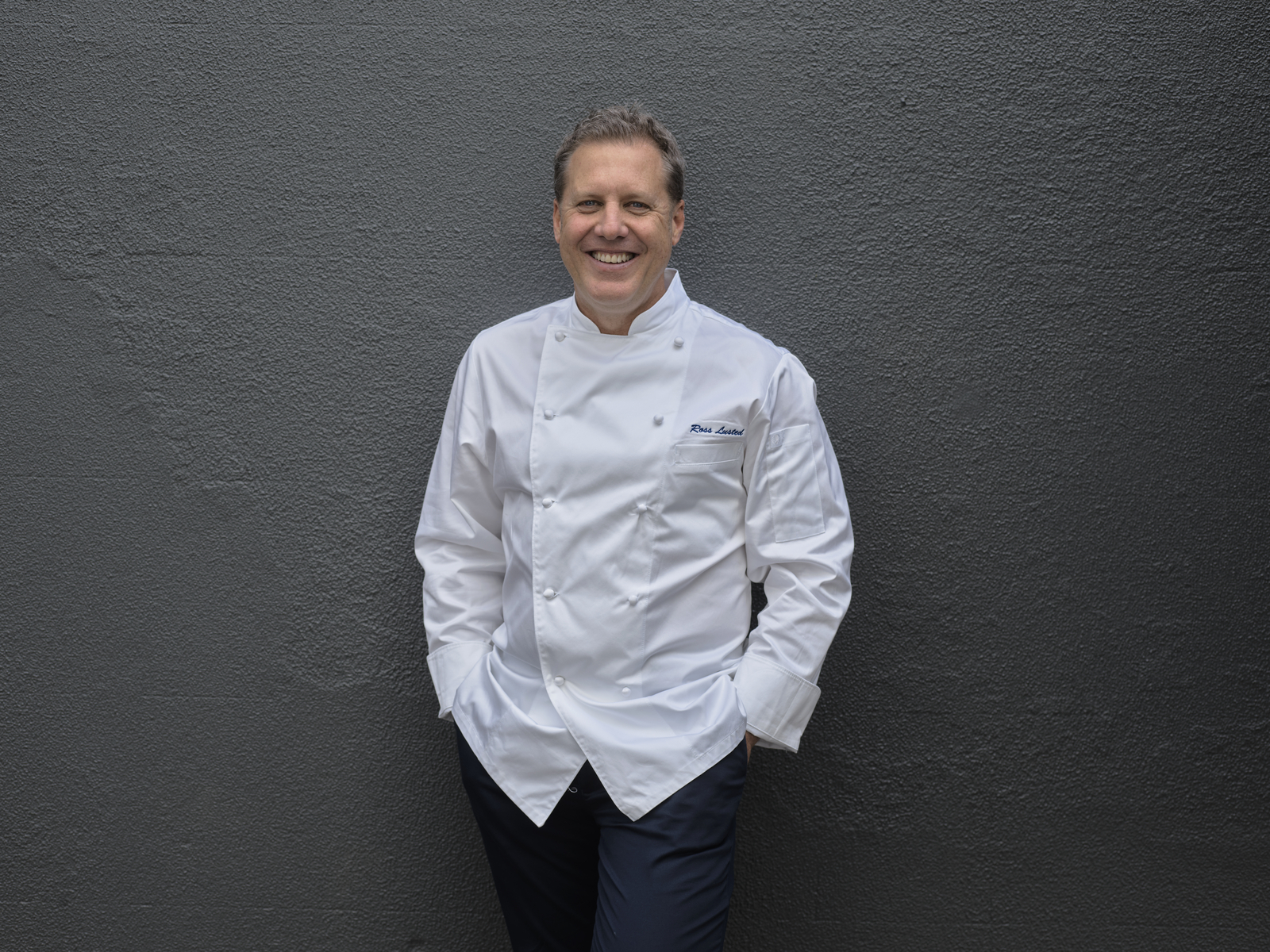 Restaurateur
Sunny Lusted, Owner of Woodcut
Acclaimed restaurateur and hotelier Sunny Lusted has launched her latest venture, Woodcut, alongside her husband Ross in Crown Sydney's highly anticipated dining precinct. Following their award-winning venue The Bridge Room, Woodcut will take Sydneysiders on a new journey. "One of the most important elements of dining is how it makes you feel. We want guests to feel welcomed, excited by the buzz of the environment and theatre of the open kitchens and most importantly we want our guests to feel at home at Woodcut."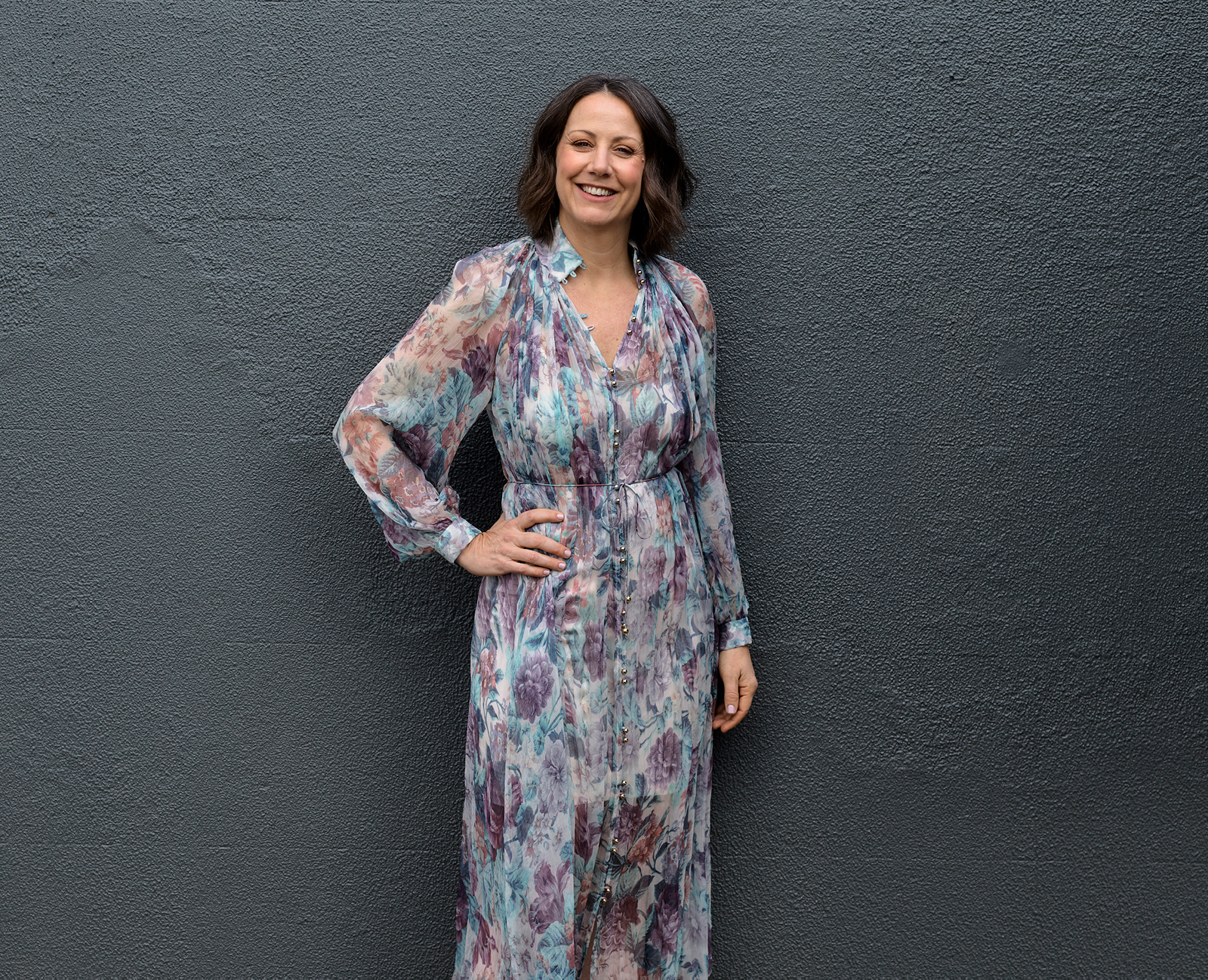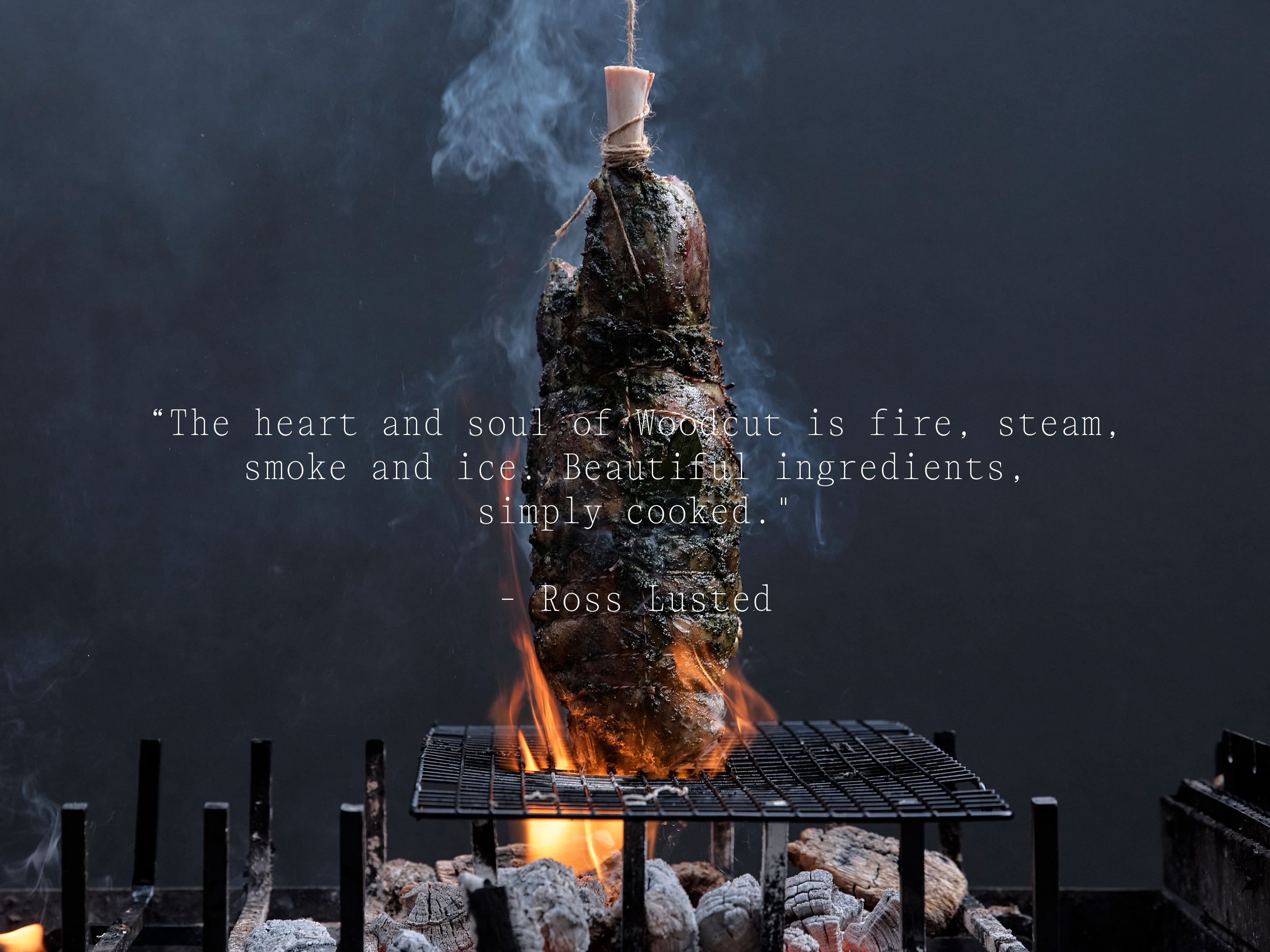 The wine program at Woodcut is a storybook detailing an intimate background of provenance, winemakers and viticulturalists.
It celebrates both conventional and experimental methods, braided with the intent to find different and unique expressions of the terroir in which their hands toil. The list showcases iconic wines and historical houses balanced with the unknown and upcoming game changers. Australian regional wines are heavily featured on Woodcut's wine list however we will also highlight international favourites in addition to an extensive cellar list.
Our focus at Woodcut is on excellence in wine making, favouring those with regenerative land principles, sustainability and wines that at their core have a story that we believe we need to tell.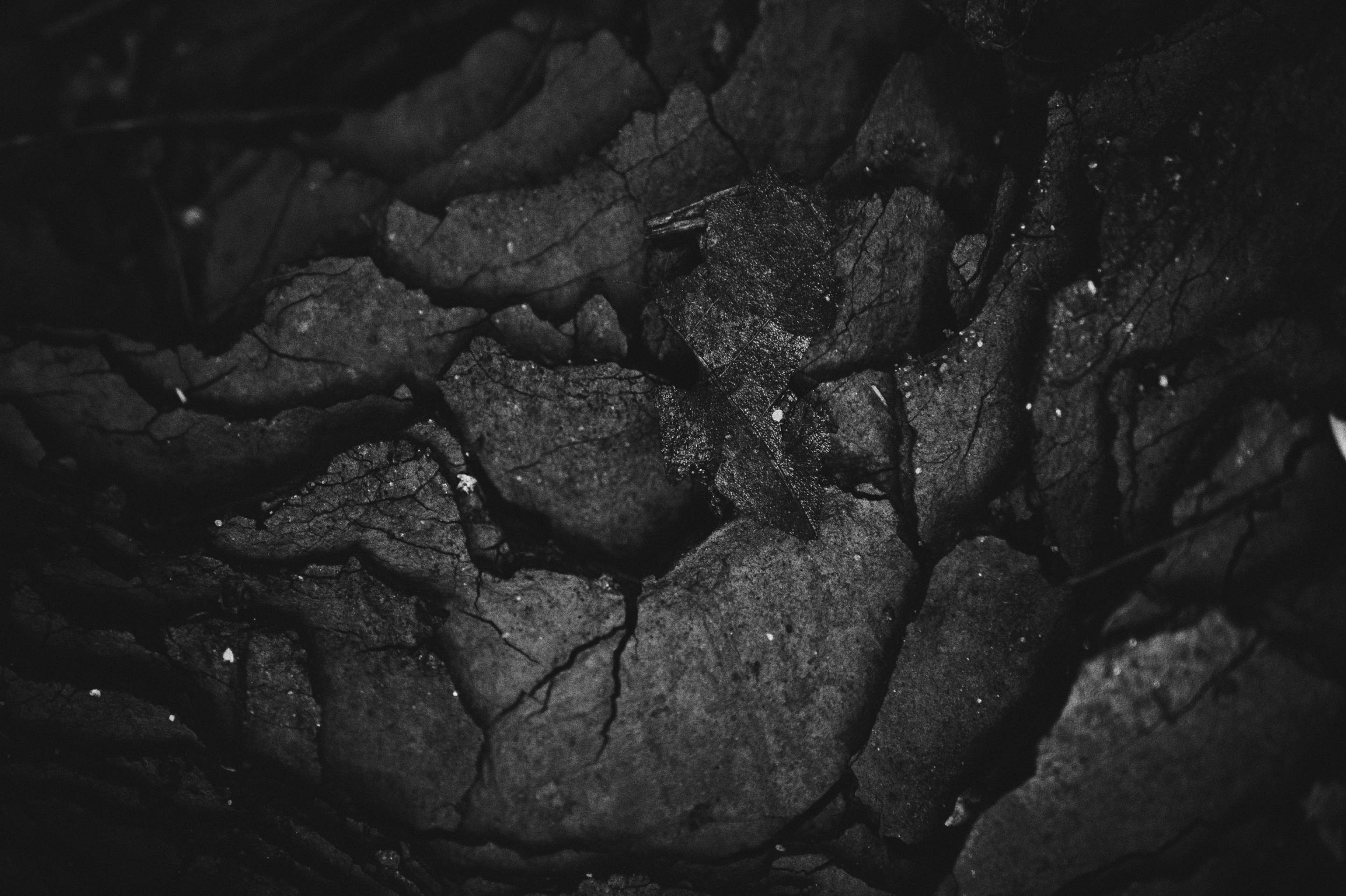 OPENING HOURS
Lunch
12pm - 2:30pm (Mo - Su)
*Lunch bookings open 12pm, last booking at 2:30pm
Dinner
5:30pm - 9:30pm (Mo - Su)
*Dinner bookings open 5:30pm, last booking at 9:30pm
Online reservations recommended.
For reservations of 13 or more guests, contact Crown Restaurant Reservations on 02 8871 7171.
LOCATION
Level 1 (Ground), 1 Barangaroo Avenue, Sydney, NSW, 2000, Australia

+61 2 8871 7171
Crown Gifts
The perfect gift
Spoil a loved one with Crown Gifts. Crown Gift cards are available in denominations from $50 to $500 and are redeemable in all Crown Hotels, Crown Spa and restaurants including Woodcut. Purchase your Crown Gift card online or visit hotel reception at Crown Sydney where you can also request a personalised Woodcut note with your purchase.
Discover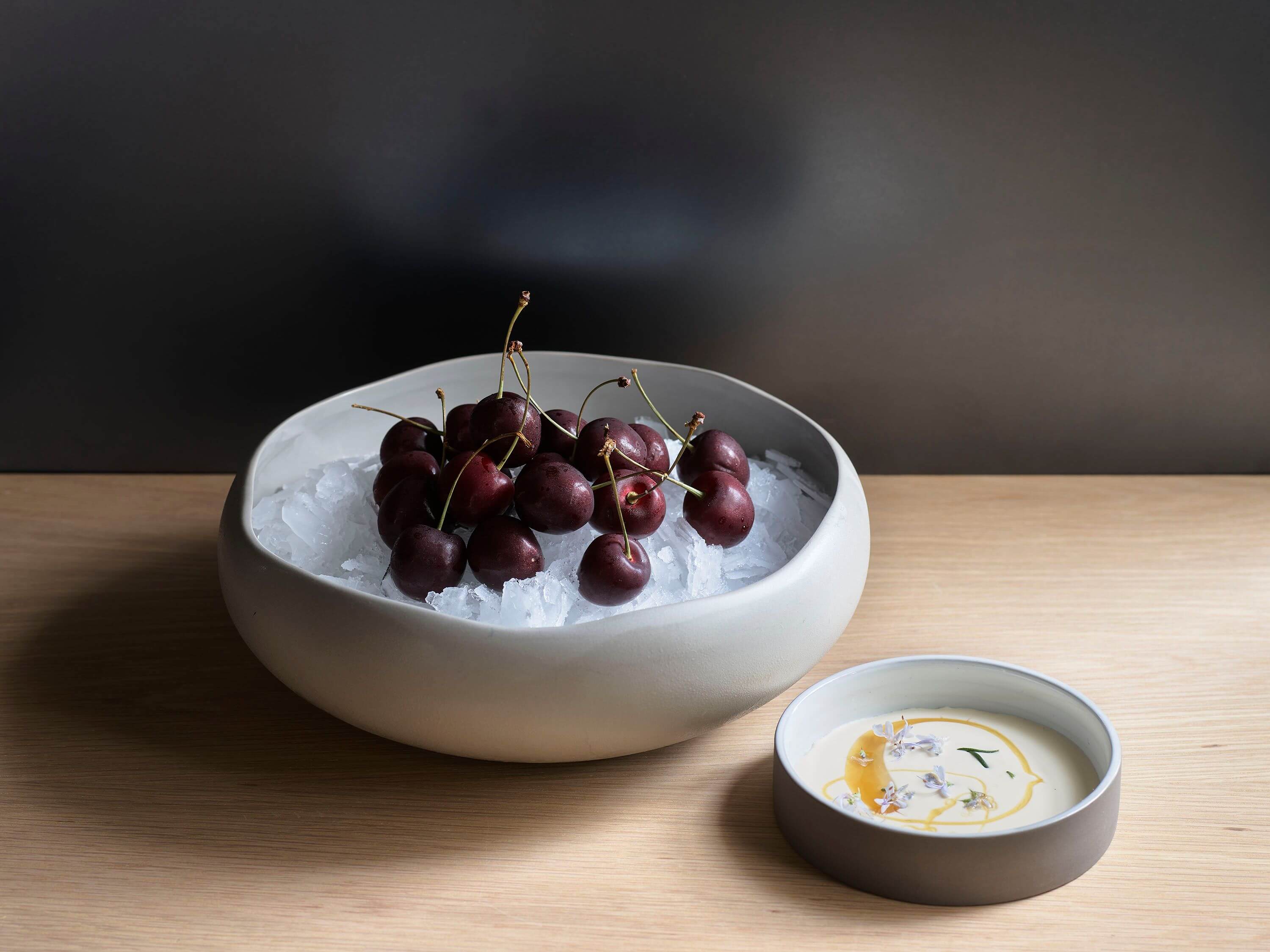 Discover all the finer details to make your time at Crown Sydney seamless and enjoyable.
Please be advised that on-site parking is limited. Discover your most convenient way to visit through the various public transport options offered close by. Learn more
Booking policy
Please note a 10% surcharge applies on Sundays and for groups of 10 or more, and a 15% surcharge applies on Public Holidays.
We take note of your table preference; however, table location is subject to change. Your seats will be held for 15 minutes post your reservation booking time. Should you wish to cancel or amend your reservation, contact us at +61 2 8871 7171 at least 24 hours prior to your reservation.
Please view the Crown Sydney
dress standards
prior to your reservation.
Cancellation policy
Credit card details are required to secure this reservation. No charges will be processed on your card at the time of booking. Should you wish to cancel or make changes, please contact us at +612 8871 7171 at least 24 hours prior to your reservation, or a cancellation fee of AU$100 per person will be charged to the card provided.
Allergies & dietary requests
Due to the potential of trace allergens in the working environment and supplied ingredients, Crown Sydney cannot guarantee completely allergy-free dining experiences.