About
a'Mare at Crown Sydney
Inspired by memories of classic fine dining back in his home country of Italy, acclaimed Chef and Restaurateur Alessandro Pavoni welcomes his latest venture a'Mare to the Sydney landscape.
With an ever-changing menu that evolves with the finest seasonal Australian produce and Italian ingredients, dishes are focused on the simplicity of these elements, the regions from which they came and the stories behind them.
"It has been a dream of mine to create the best classical Italian restaurant in Australia. I am inspired by the nostalgic romance of dining out; when service was paramount, food was simply delicious and the maître-d knew your name. This is the essence of the a'Mare experience"

Booking Policy
Please note a 10% surcharge applies on Sundays. A 15% surcharge applies on all Public Holidays (one surcharge fee of 15% if Public Holiday falls on a Sunday). An additional service fee of 10% applies to bookings of 10 people or more.
Read more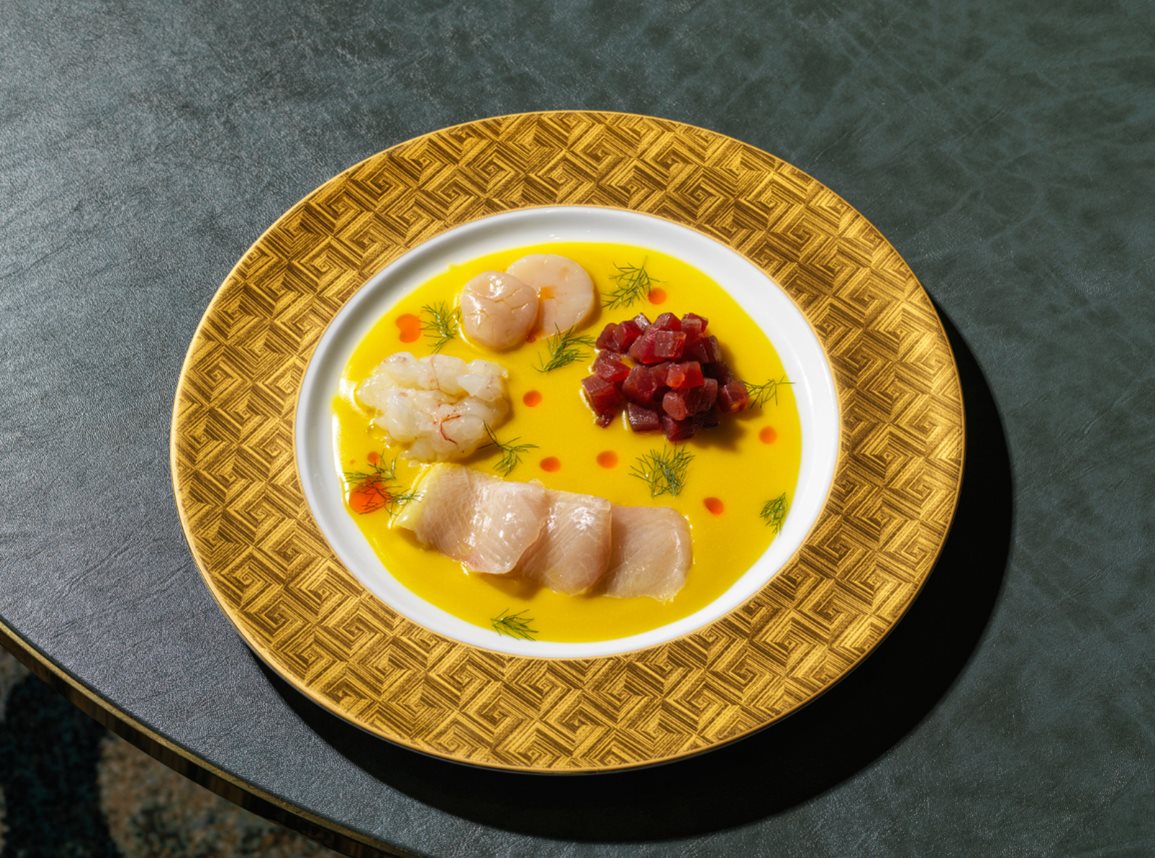 Thursday 7 July
Exclusive Truffle Dinner
You are invited to experience an indulgent winter evening of truffles at a'Mare.
During this exclusive event, savour four sumptuous courses that showcase the delicacy of the elusive truffle. You will also have the opportunity to meet our truffle suppliers and a'Mare's Alessandro Pavoni.
You can experience four majestic courses for $250 per person, with the option to perfectly pair your dishes with Nebbiolo wines for an additional $160 per person. Or for the ultimate indulgence, elevate your matched wines with our revered selection from Barolo for an optional $220 per person.
Experience
Lunch at a'Mare
Impress valued clients or treat yourself to an elegant long lunch with friends by the harbour. Classic Italian flavours shine under Chef Alessandro Pavoni's direction as he brings Puglian flair to the menu, complemented by an award-winning wine list. Savour light and refreshing raw seafood delicacies like scallop, sea urchin and coral trout, or for something more decadent, order one of a'Mare's signature pasta dishes. For a truly exclusive experience, reserve one of a'Mare's two private dining rooms.
Celebrating Italian heritage and romance, a'Mare Bar emulates a nostalgia for glamourous old school Italy with a magnificent harbourside vista. Merging tradition with new world techniques, enjoy elevated, classic cocktails crafted from boutique Italian spirits and seasonal local produce, as well as an extensive vermouth and amaro selection. A delectable range of small plates accompanies the bespoke beverage offering, all served with a side of cheeky Italian charm from Bar Manager Mattia Arnaboldi and his team.
A luxe setting with details nodding to the blue sea hues of the waterside backdrop, pull up a seat inside to take in the intimate theatrics of the bar, or immerse yourself in the breathtaking beauty of the harbour on our outdoor terrace. No booking required, walk-ins welcome.
Experience
For the love of Italy
The a'Mare dining room is inspired by the palazzos of old school Italy such as Venice, Milan, Rome and Lake Garda. Distinctly Italian details are presented throughout the dining room including luxurious furnishings, and the stunning ornate ceiling with the magnificent blue hues of the harbour backdrop.
Food philosophy
A passion for Italian nostalgia
Alessandro's love and passion for Italy is evident through the dishes and his recipes, a means to represent the nostalgia of his childhood in Italy. His menu is constantly evolving with the finest Italian produce as well as inspirations he finds from local growers and suppliers in his quest to emphasise the simplicity of beautiful ingredients and tell a story through food. Enjoy classic Italian dishes with an a'Mare twist and be enticed by the theatrics of finishing touches being completed at the table to deliver a memorable dining experience.
The wine list has been meticulously curated by a'Mare's sommelier team and was awarded Best New Wine List at the 2021 Wine List of the Year Awards Australia. Each of the nearly three hundred references in this sizeable cellar has been carefully selected and allows guests to explore key varietals and regions. With an emphasis on Italian producers, historical roots are also celebrated with a selection of vintages. Let our team guide you through a personalised wine pairing or lose yourself in the classical and regional list.
Private Dining
A space for every celebration
Enjoy a culinary experience in the exclusive and glamourous surroundings of a'Mare through the ground floor restaurant, al fresco dining on the terrace and three private dining rooms upstairs.
Perfect for private celebrations or larger engagements, a'Mares elegant spaces combined with its own dedicated service and sommelier team is the ideal setting to experience Alessandro's classic Italian dishes. Our team will ensure a flawless experience, organising every detail from personalised menus that celebrate dishes from a'Mare's à la carte menu through to the beverage selection, table plans, place cards, table centrepieces and any special requests.
Download brochure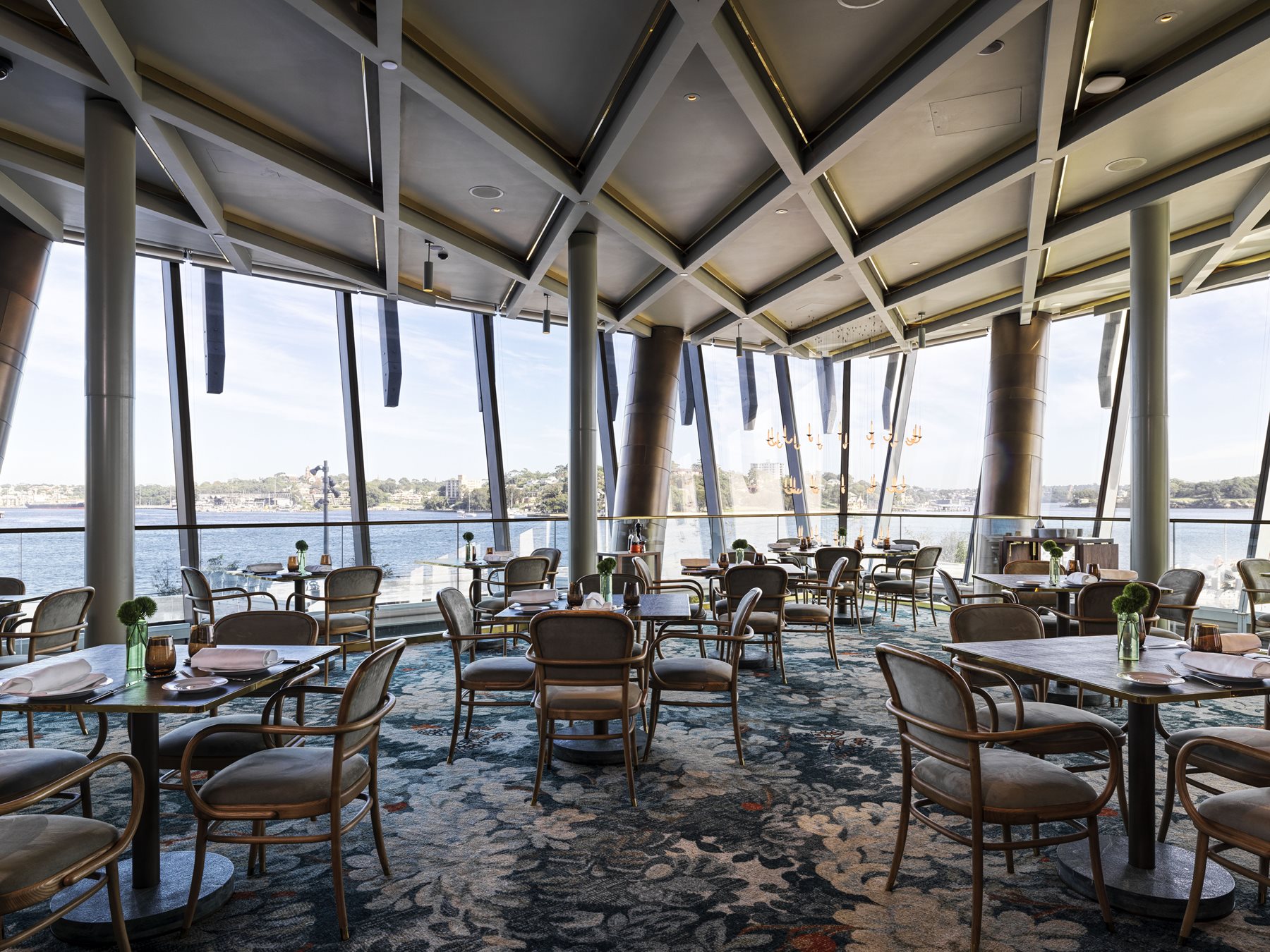 Award-winning chef and restaurateur Alessandro Pavoni ignited his passion for food as a child in his nonna's kitchen in Northern Italy. He has since pursued a successful career in the culinary arts, working in various Michelin star venues around the globe, establishing his own accolade awarded venue, writing a cookbook, and educating aspiring chefs at some of the country's most renowned culinary schools. As a highly regarded pioneer of contemporary Italian cuisine, a'Mare is Pavoni's latest venture, a classic fine dining experience showcasing elegant service and the finest seasonal ingredients.

Articles
Discover more about a'Mare
Careers
Are you the perfect a'Mare candidate?
Passionate about Italy? Exude grace, charm and professionalism, not to mention have a fun sparkle in your eye? Cook an amazing risotto? Want to work with the most glamorous Italian restaurant in Sydney? Email your CV, working rights, and a sentence on why you should be part of the a'Mare team to careers@amaresydney.com.au
OPENING HOURS
Dinner
5:30pm - 12am (Tu - Th)
5:45pm - 1am (Fr, Sa)
5:45pm - 12am (Su)
Bar
5:30pm - 12am (Tu)
12pm - 12am (We, Th & Su)
12pm - 1am (Fr, Sa)
We will reopen for dinner on Mondays from 4 July 2022.
Online reservations recommended. Last booking time for lunch is 2:30pm.
Last booking time for dinner is 9:30pm on Tuesday – Thursday, 9:45pm on Friday – Saturday and 9pm on Sunday.
A minimum spend of $120 per person applies every day except for Monday – Thursday lunch bookings.
For general reservations enquiries please call 02 8871 7171.
For reservations of 10 or more guests, or to book one of the private dining rooms including Harbour View Room exclusive hire, email groups@amaresydney.com.au or call 02 8029 0887.
For a'Mare venue exclusive hire, email private.events@crownsydney.com.au.
LOCATION
Level 1 (Ground), 1 Barangaroo Avenue, Sydney, NSW, 2000, Australia

+61 2 8871 7171
Crown Gifts
The perfect gift
Spoil a loved one with Crown Gifts. Crown Gift cards are available in denominations from $50 to $500 and are redeemable in all Crown Hotels, Crown Spa and restaurants including a'Mare. Purchase your Crown Gift card online or visit hotel reception at Crown Sydney where you can also request a personalised a'Mare note with your purchase.
Discover
Discover all the finer details to make your time at Crown Sydney seamless and enjoyable.
Please be advised, on-site parking is limited. Discover your most convenient way to visit, through the various public transport options offered close by. Learn more
Please note a 10% surcharge applies on Sundays. A 15% surcharge applies on all Public Holidays (one surcharge fee of 15% if Public Holiday falls on a Sunday). An additional service fee of 10% applies to bookings of 10 people or more.
We take note of your table preference; however, table location is subject to change. Your seats will be held for 15 minutes post your reservation booking time. Should you wish to cancel or amend your reservation, contact us at +61 2 8871 7171 at least 24 hours prior to your reservation.
Please view the Crown Sydney
dress standards
prior to your reservation.
Credit card details are required to secure this reservation. No charges will be processed on your card at the time of booking. Should you wish to cancel or make changes, please contact us at +612 8871 7171 at least 24 hours prior to your reservation, or a cancellation fee of AU$100 per person will be charged to the card provided.
Allergies & dietary requests
Due to the potential of trace allergens in the working environment and supplied ingredients, Crown Sydney cannot guarantee completely allergy-free dining experiences.