Woodcut
Woodcut at Crown Sydney
Celebrate beautiful ingredients, uniquely cooked on the principle of exquisite simplicity at Crown Sydney's soulful food institution, Woodcut
Australian produce is at the centre and enjoyed with traditional methods of cooking including fire, steam, smoke and ice. Elements that consistently entice and delight.
Recently winning one prestigious hat from the Good Food Guide Awards the concept is inspired by internationally acclaimed restaurateurs and hoteliers Ross and Sunny Lusted's travels. Woodcut pays tribute to fond memories of slow cooked meals in a wood burning oven or over open fire, and the earthy flavours that were imagined in spontaneity.
Booking Policy
Please note a 10% surcharge applies on Sundays. A 15% surcharge applies on all Public Holidays (one surcharge fee of 15% if Public Holiday falls on a Sunday). An additional service fee of 10% applies to bookings of 10 people or more.
Food Philosophy
Honouring elemental cooking methods
At Woodcut, Lusted's culinary creations stem from memories of food inspired by their travels overseas – meals prepared in a slow wood burning oven, seafood cooked over a charcoal fire in a cast iron pot in Croatia, trout from a New Zealand stream crusted in sea salt and smoked over embers. These experiences have emphasised the ability for food, and most importantly, their cooking methods, to tell a story; evoking memories of a time and place.
"With each ingredient we source at Woodcut I ask, "Where would this produce most flourish? Raw? On the ash grill? In the steam kettles? In the Romertopf? In the wood oven? On the wood grill?" It's all about finding the best way to express the ingredient."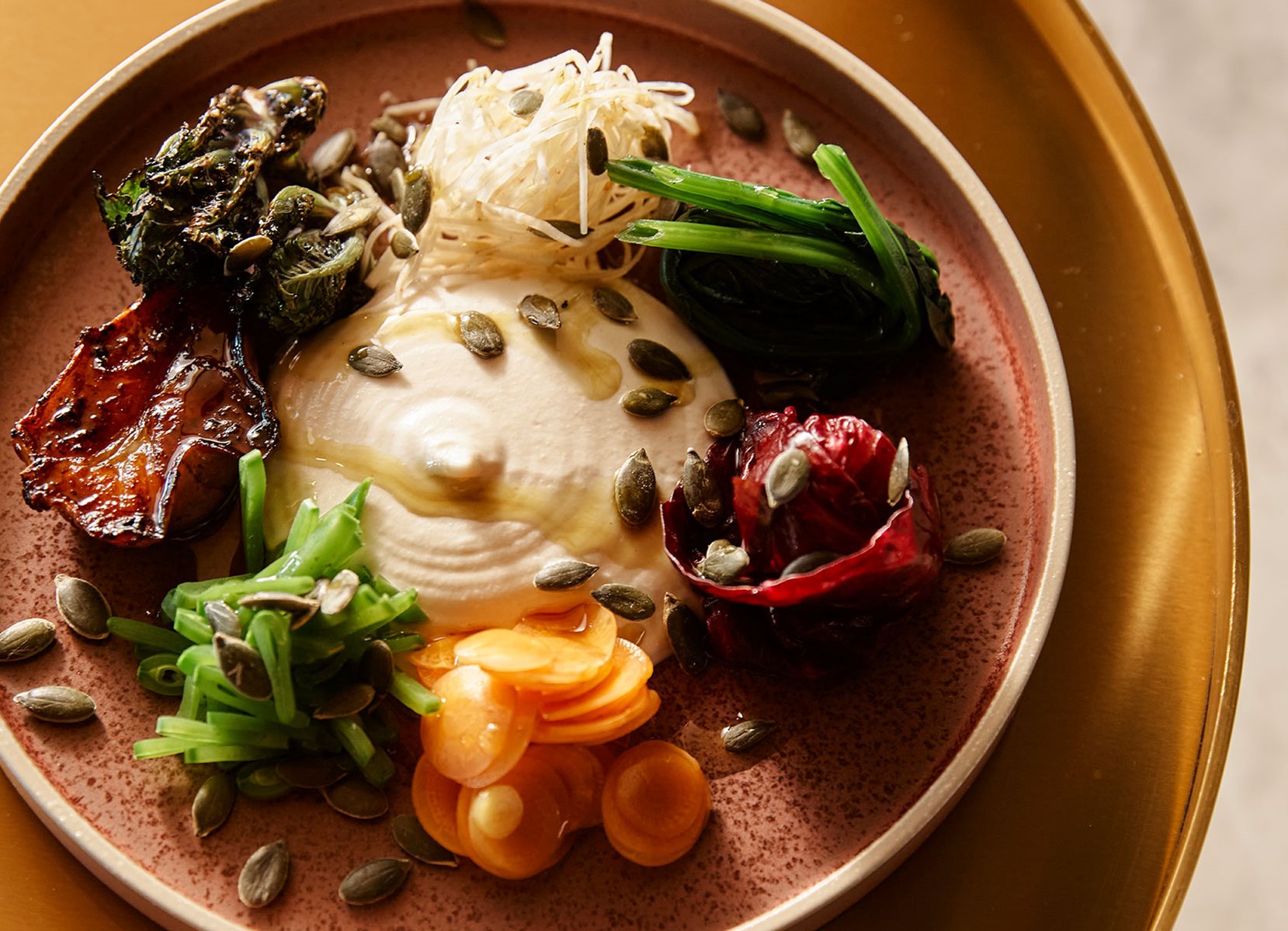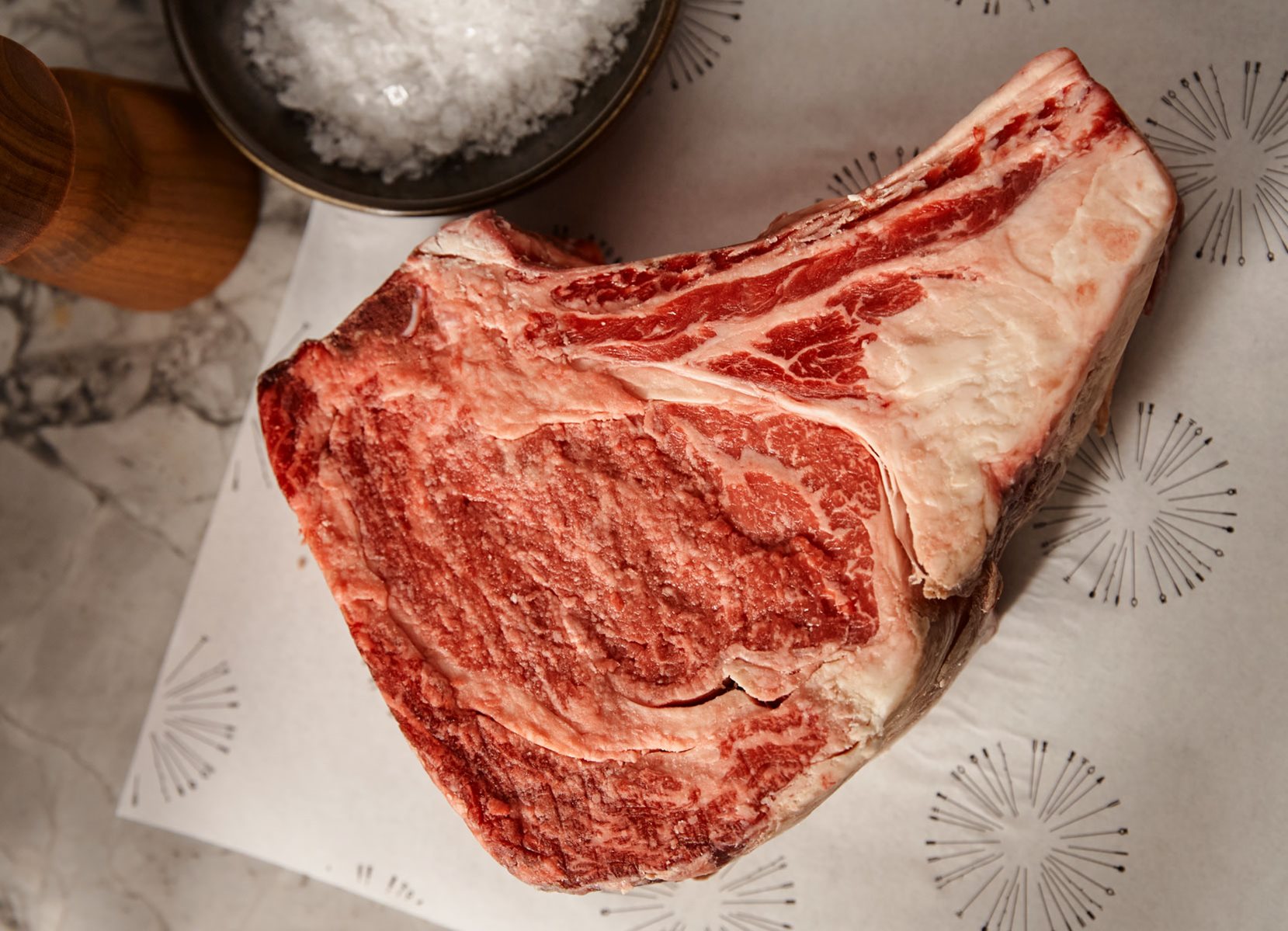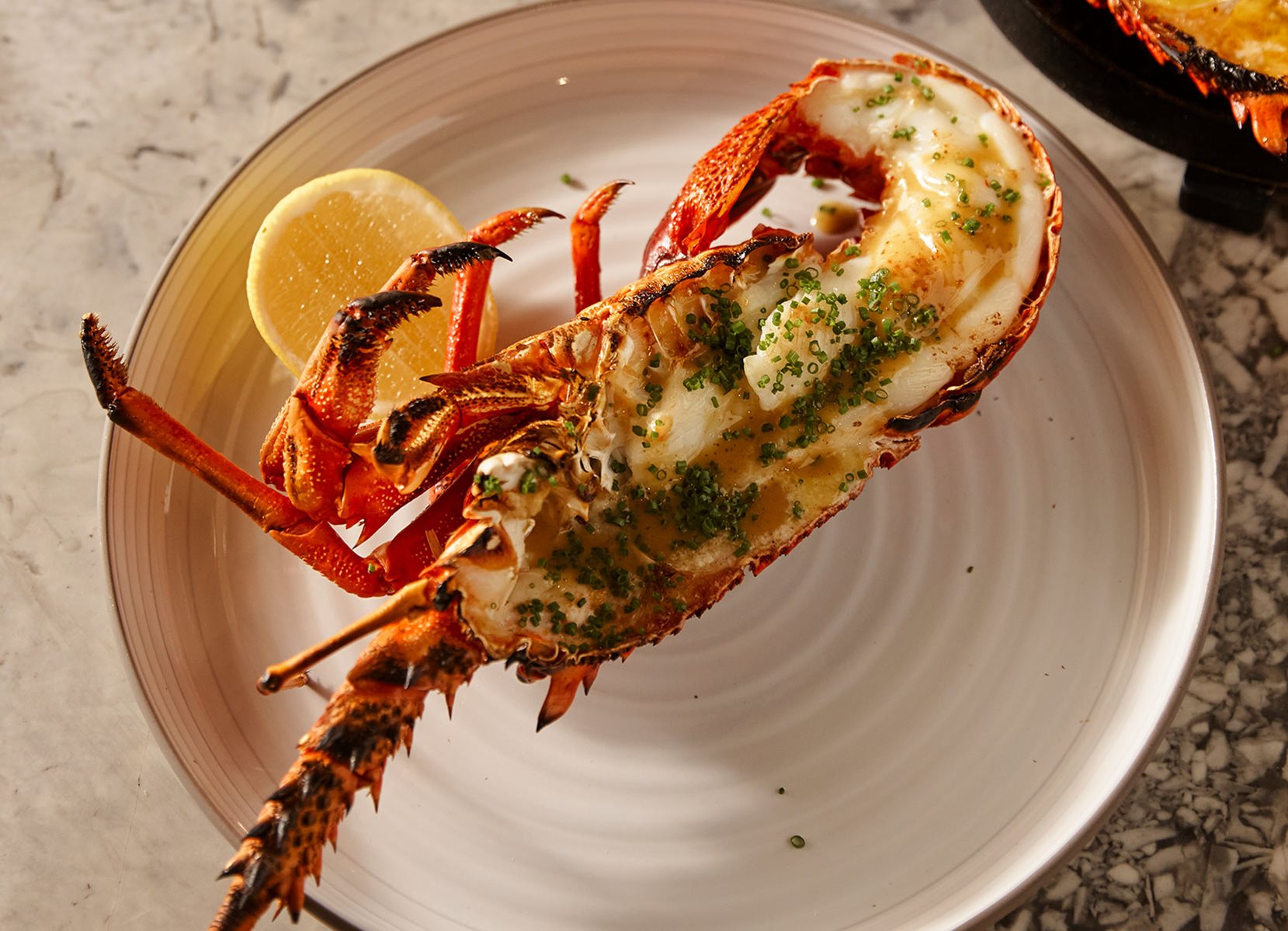 Dining
Guests will first eat with their eyes
Everything at Woodcut is a showcase, from the jewellery-case-like iceboxes featuring curated produce to Ross's vertical garden. Dining becomes an experience with guests drawn to order from what they see harvested by the Chefs in the open kitchen well before they see a menu. Every detail of the Woodcut experience has been deeply considered and every seat at Woodcut is "the best seat in the house".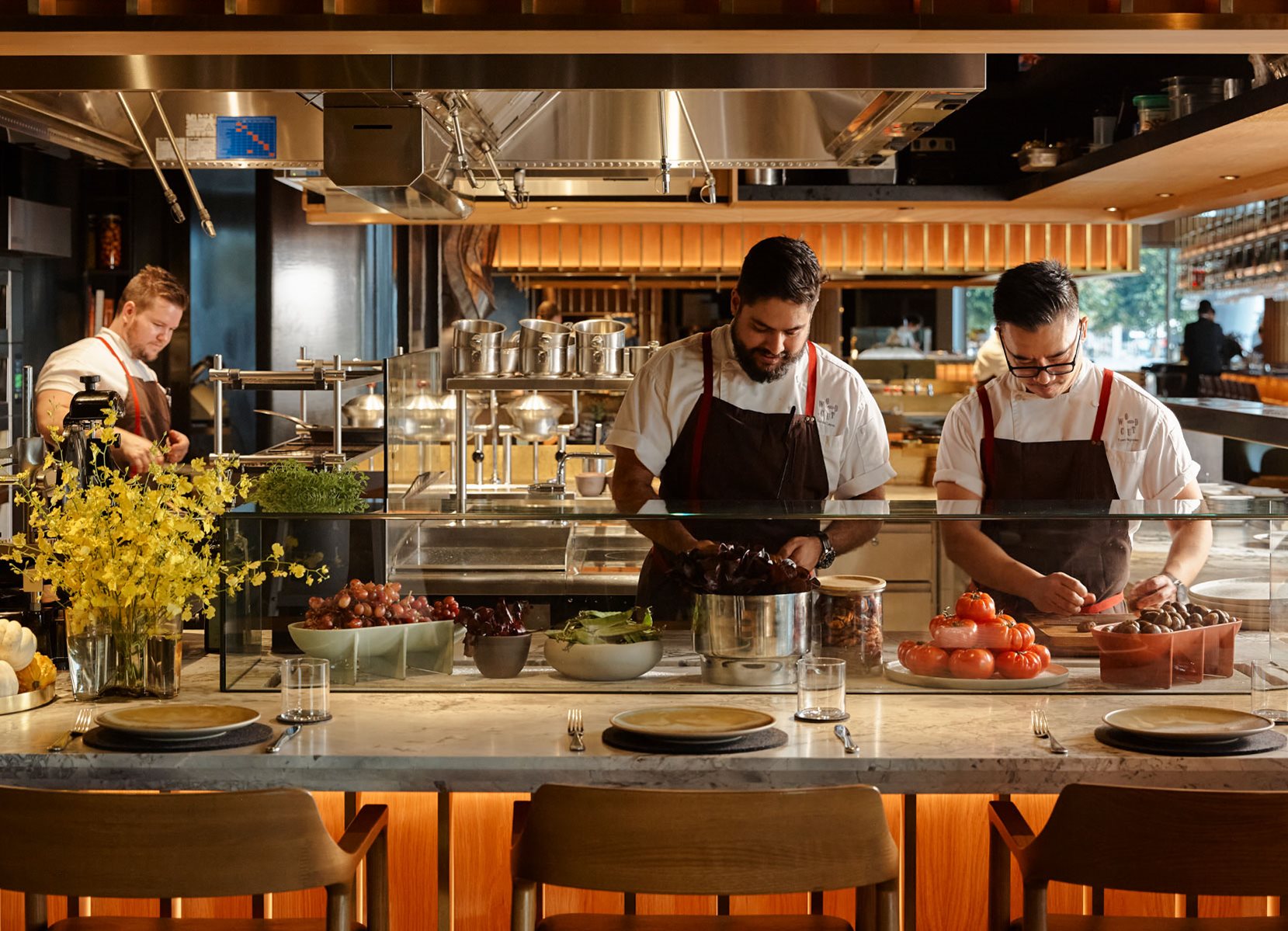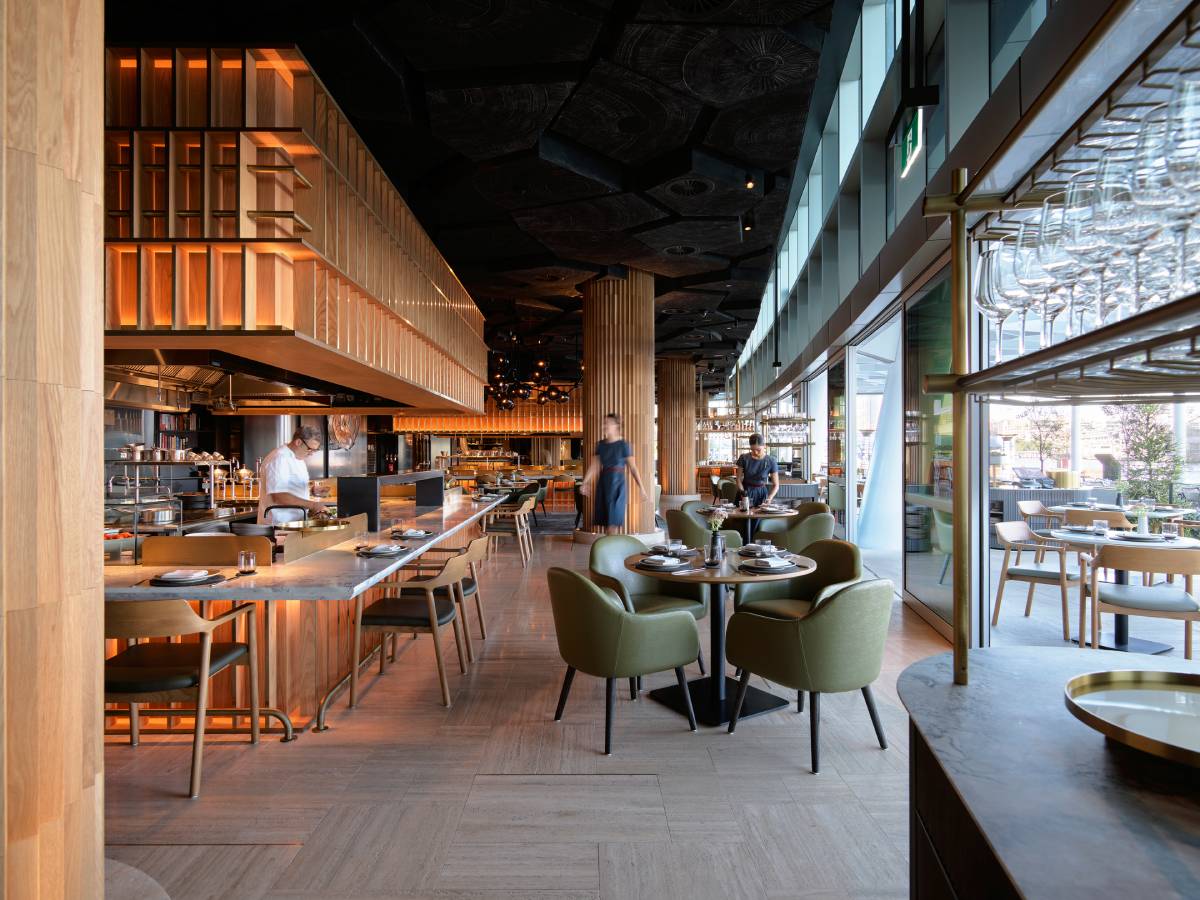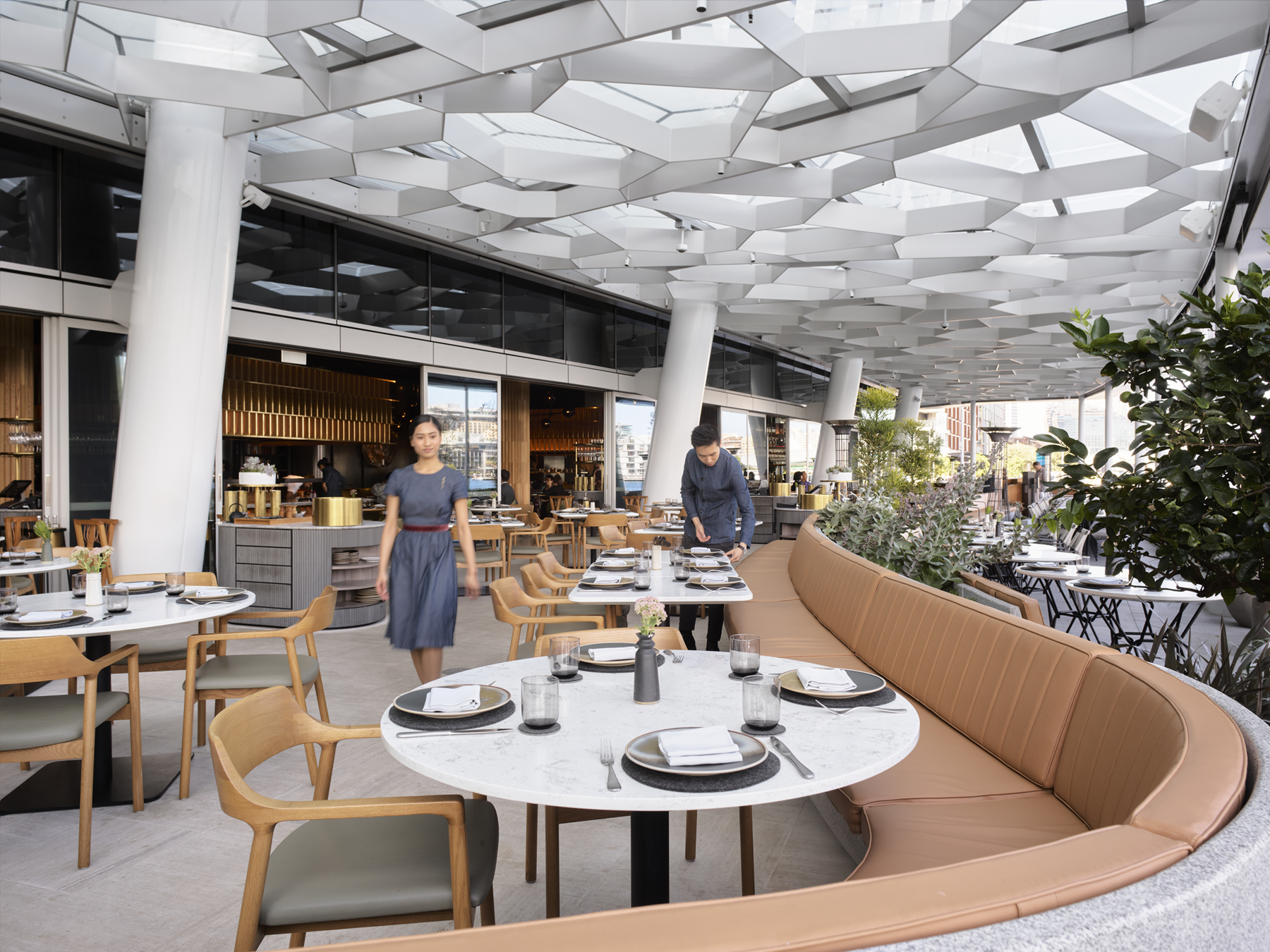 Chef's counter dining
Experience the theatre of Woodcut's open kitchens and enjoy a front row seat to "the show" at the Chef's counter. Immerse yourself amongst the bustling kitchen action as you interact with our Chefs, for a one-of-a-kind dining experience.
Dining room
Take in the vibrant energy of the restaurant with a table in our elegant dining room.The bespoke artworks, luxe furnishings and glistening harbour views set the scene for a memorable dining experience.
Terrace dining
Soak up the atmosphere of the ever-changing landscape and bustle of Sydney Harbour with terrace dining at Woodcut. Luxe outdoor furnishings and pristine water views ensures a unique outdoor dining experience.
Bar
Hickory Bar
Hickory Bar offers a boutique bar experience with an elemental ethos. Situated in the heart of Woodcut, Hickory Bar enable guests to experience vibrant restaurant atmosphere or enjoy a drink with a side of harbour views on the outdoor terrace.
Inspired by the philosophy of the restaurant, cocktails and mocktails are produced using traditional methods of steam, fire, smoke and ice, and alter seasonally. Australian spirits hero on the base of every cocktail, including Woodcut's bespoke gin with its smoked botanicals and charcoal infusion. No reservations required.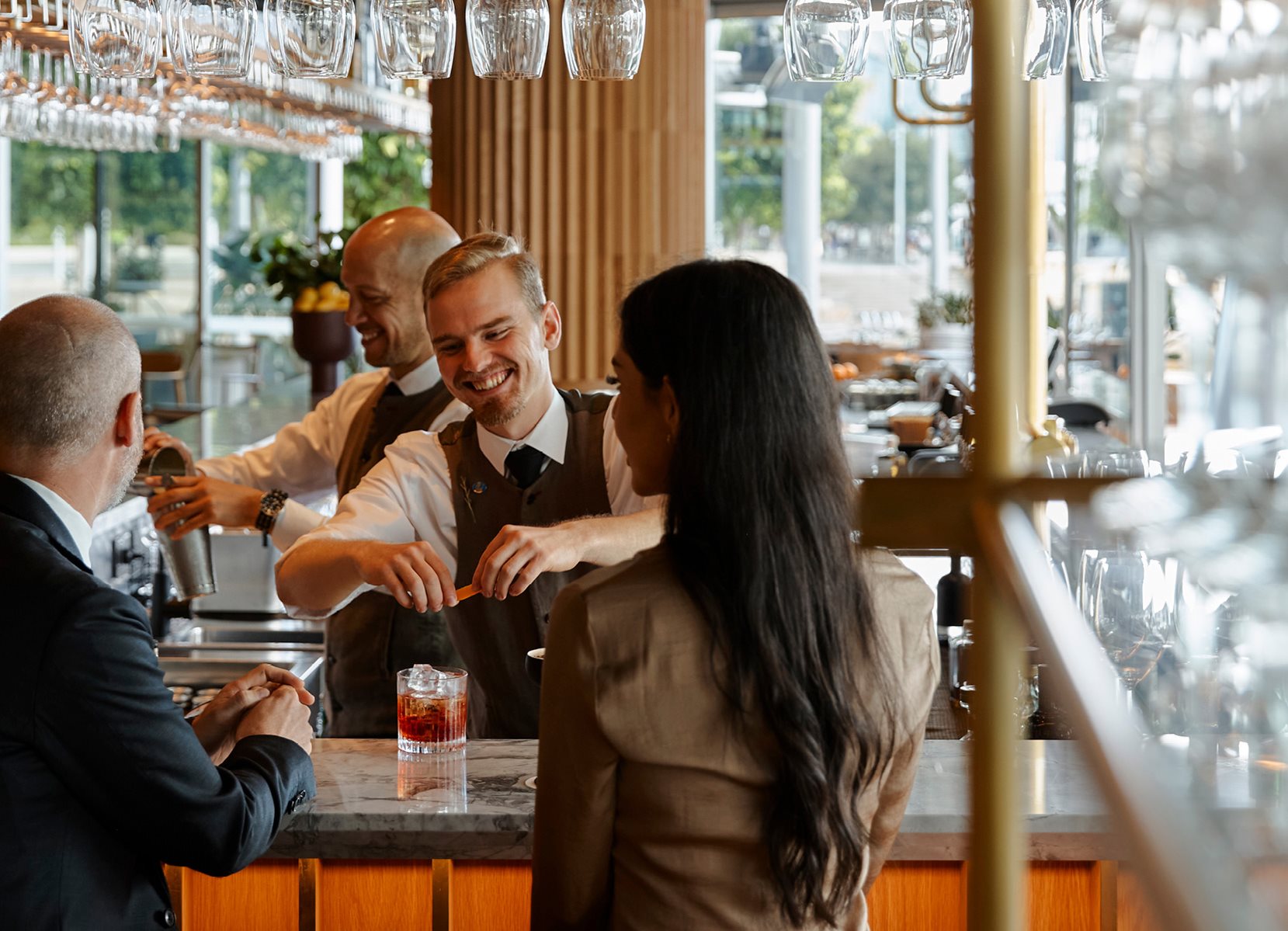 Wine
Woodcut Cellar
Recently winning Australia's Best Hotel Wine List Award at the Australian Wine List of the Year Awards, the list as expertly curated by our Head Sommelier, Addy Lam, showcases iconic wines and historical houses balanced with the unknown and upcoming game changers.
The wine program at Woodcut is designed as a storybook detailing an intimate background of provenance, winemakers and viticulturalists. Celebrating both conventional and experimental methods, braided with the intent to find different and unique expressions of the terroir in which their hands toil, Australian regional wines are heavily featured on Woodcut's wine list alongside an extensive cellar list.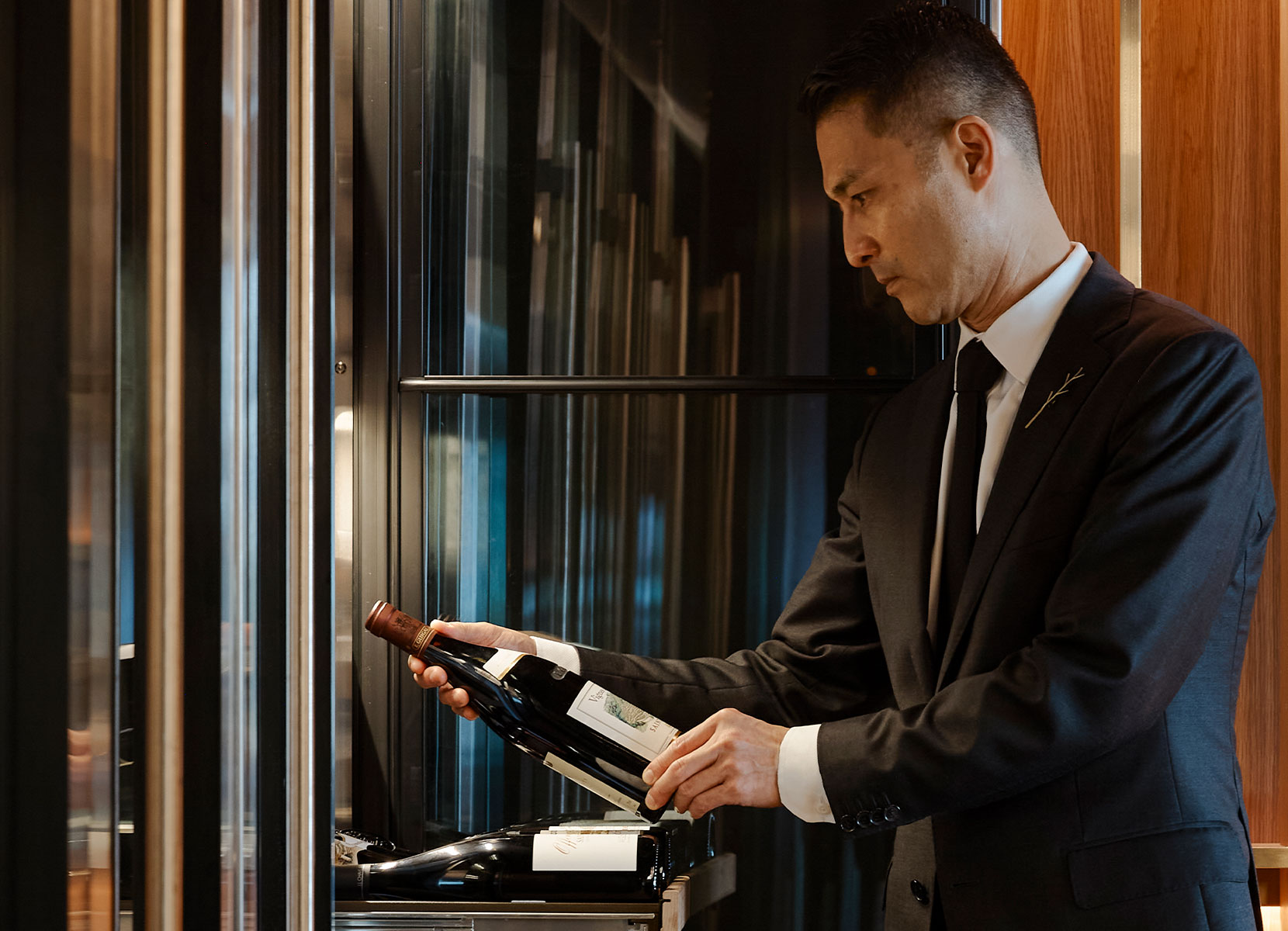 Private Dining
A one-of-a-kind dining experience
Woodcut features two beautifully appointed private rooms and a Chef's Table plus numerous opportunities throughout the restaurant to secure partial hire of the dining room.
The Woodcut experience is ideal for private events, with considered spaces both indoor and on our water view Terrace which, combined with our warm and flawless service, is the perfect way to experience Woodcut.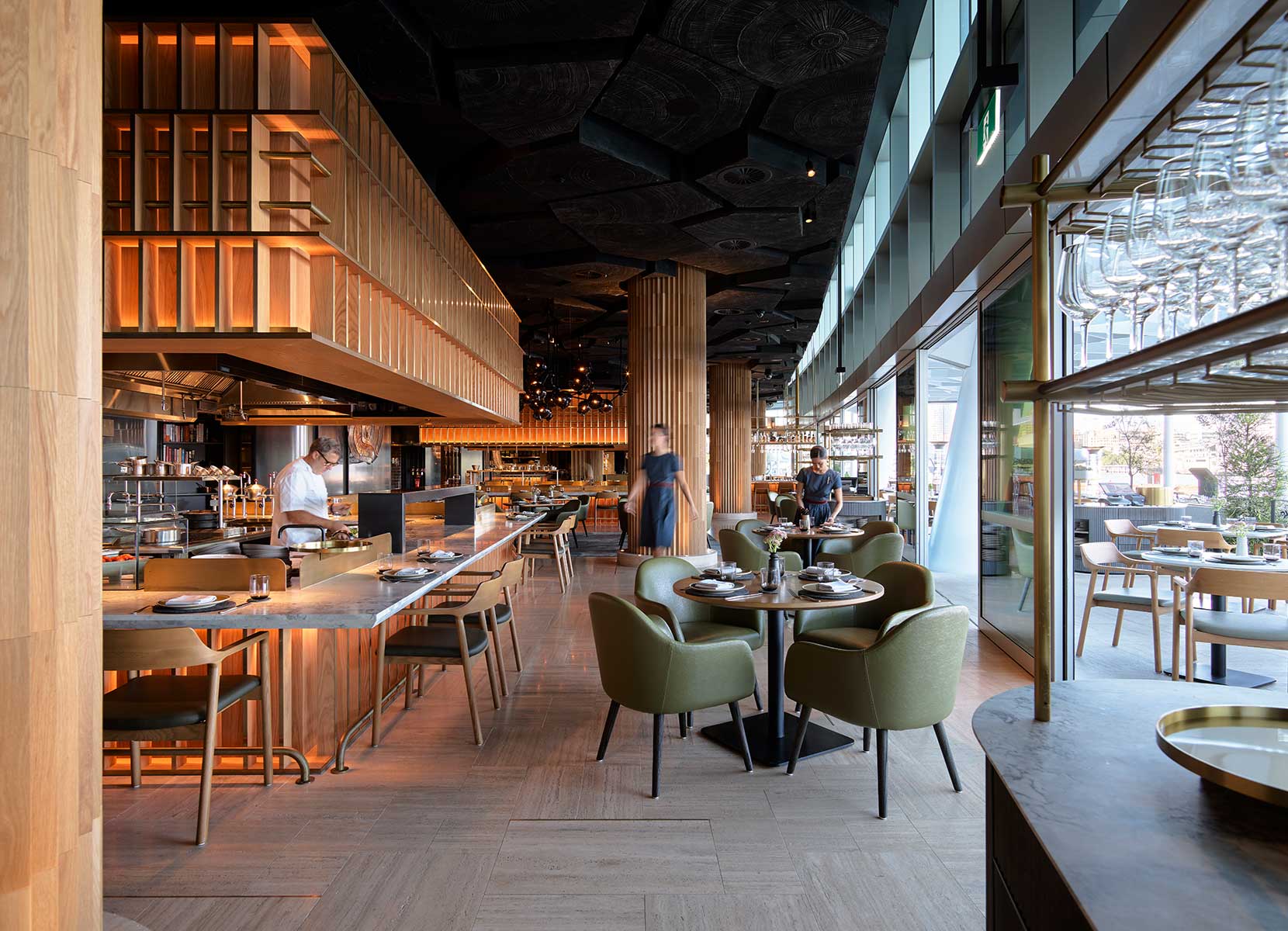 Chef | Owner
Ross Lusted, Chef at Woodcut
Acclaimed chef, sculptor, designer and restaurateur, Ross Lusted has distinguished himself in the culinary landscape through a thirty-year career that has earned him a myriad of highly regarded accolades such as Chef of the Year and Hottest Chef in Australia.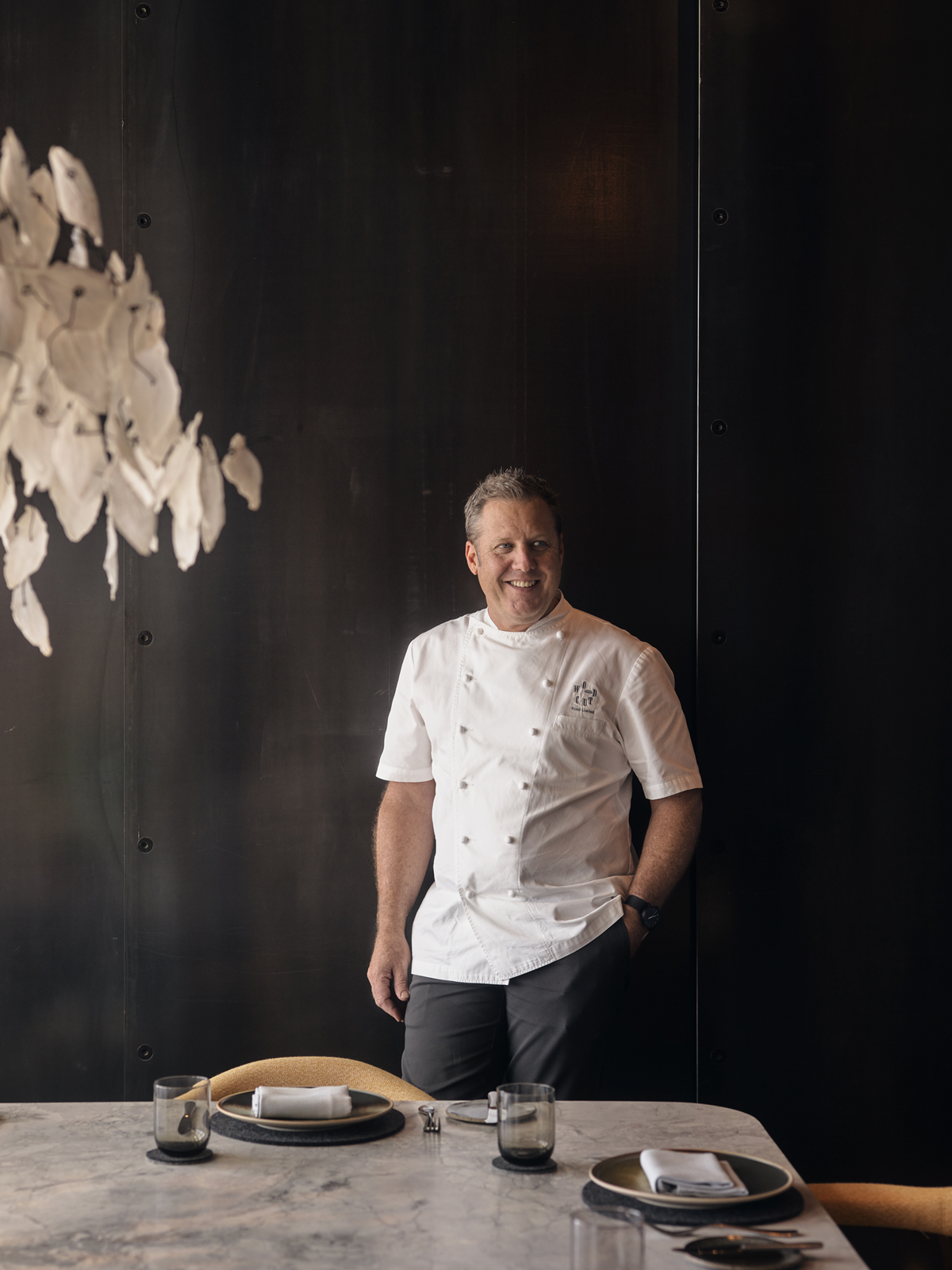 Restaurateur
Sunny Lusted, Owner of Woodcut
Following their award-winning venue, The Bridge Room, acclaimed restaurateur and hotelier Sunny Lusted aims to take Sydneysiders on a journey at Woodcut. "One of the most important elements of dining is how it makes you feel. We want guests to feel welcomed, excited by the buzz of the environment and theatre of the open kitchens, and most importantly we want our guests to feel at home."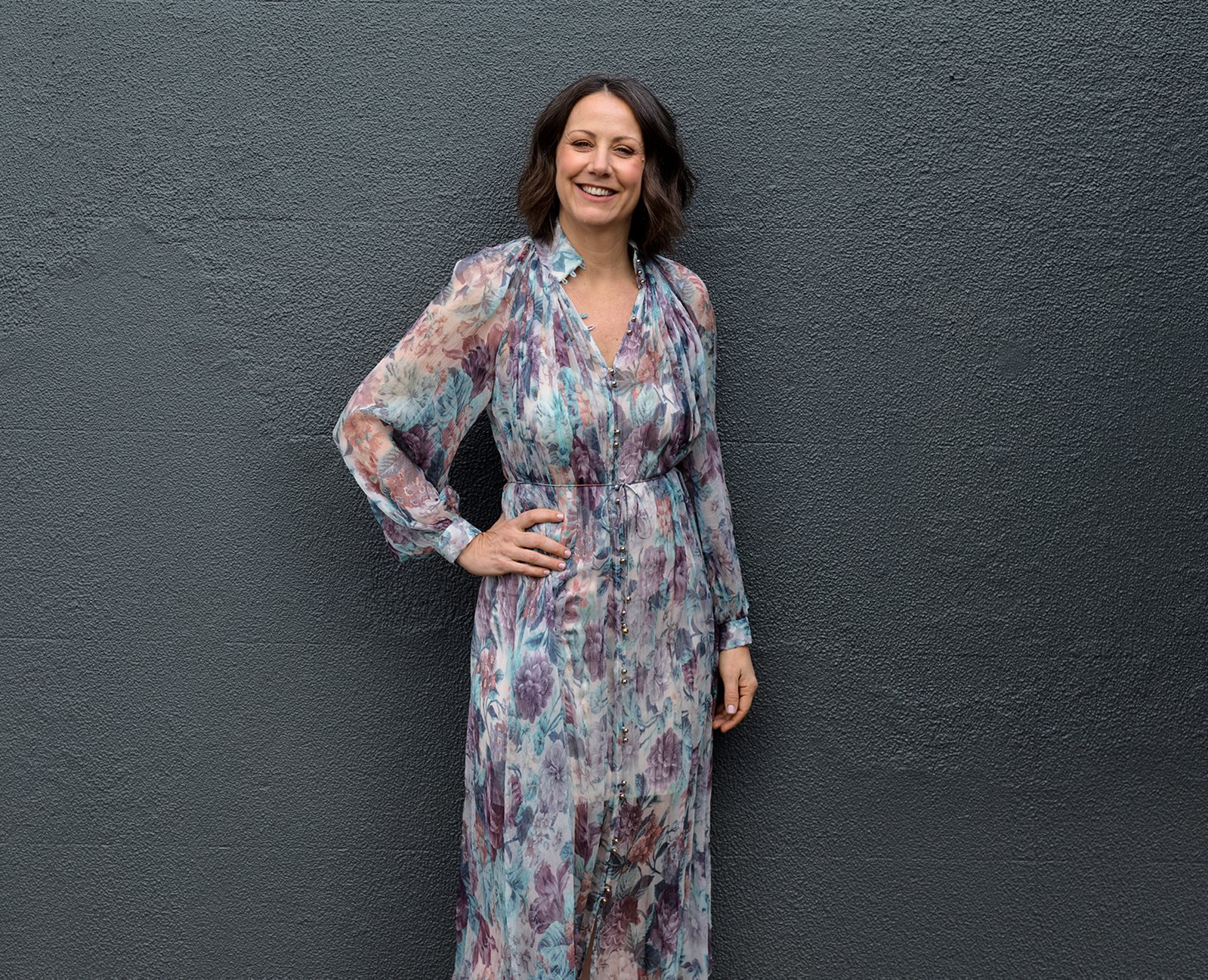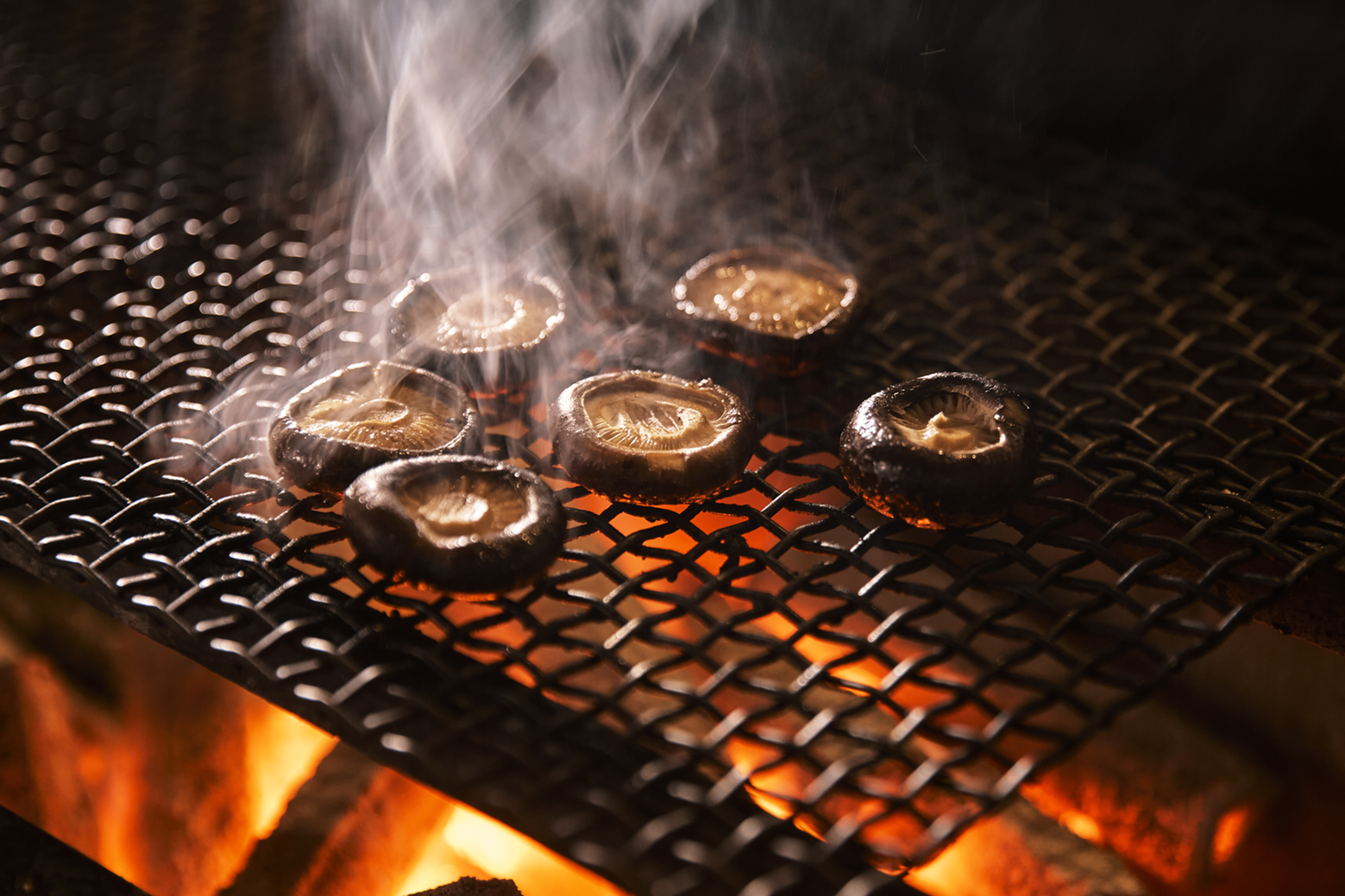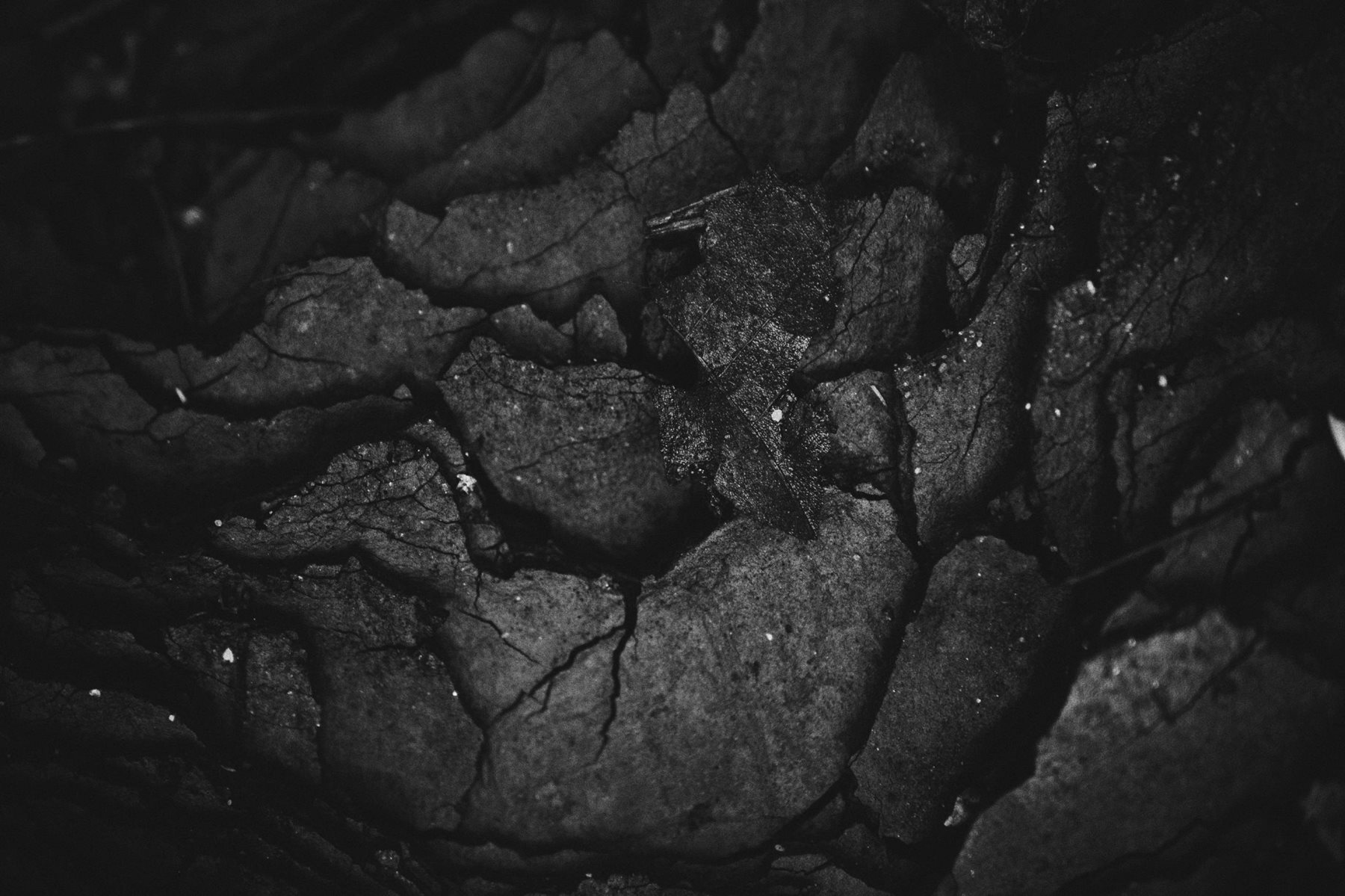 LOCATION
Level 1 (Ground), 1 Barangaroo Avenue, Sydney, NSW, 2000, Australia
View on Google Maps
This content appears at the bottom of the Venue Details Widget
Crown Gifts
The perfect gift
Spoil a loved one with Crown Gifts. Crown Gift cards are available in denominations from $50 to $500 and are redeemable in all Crown Hotels, Crown Spa and restaurants including Woodcut. Purchase your Crown Gift card online or visit hotel reception at Crown Sydney where you can also request a personalised Woodcut note with your purchase.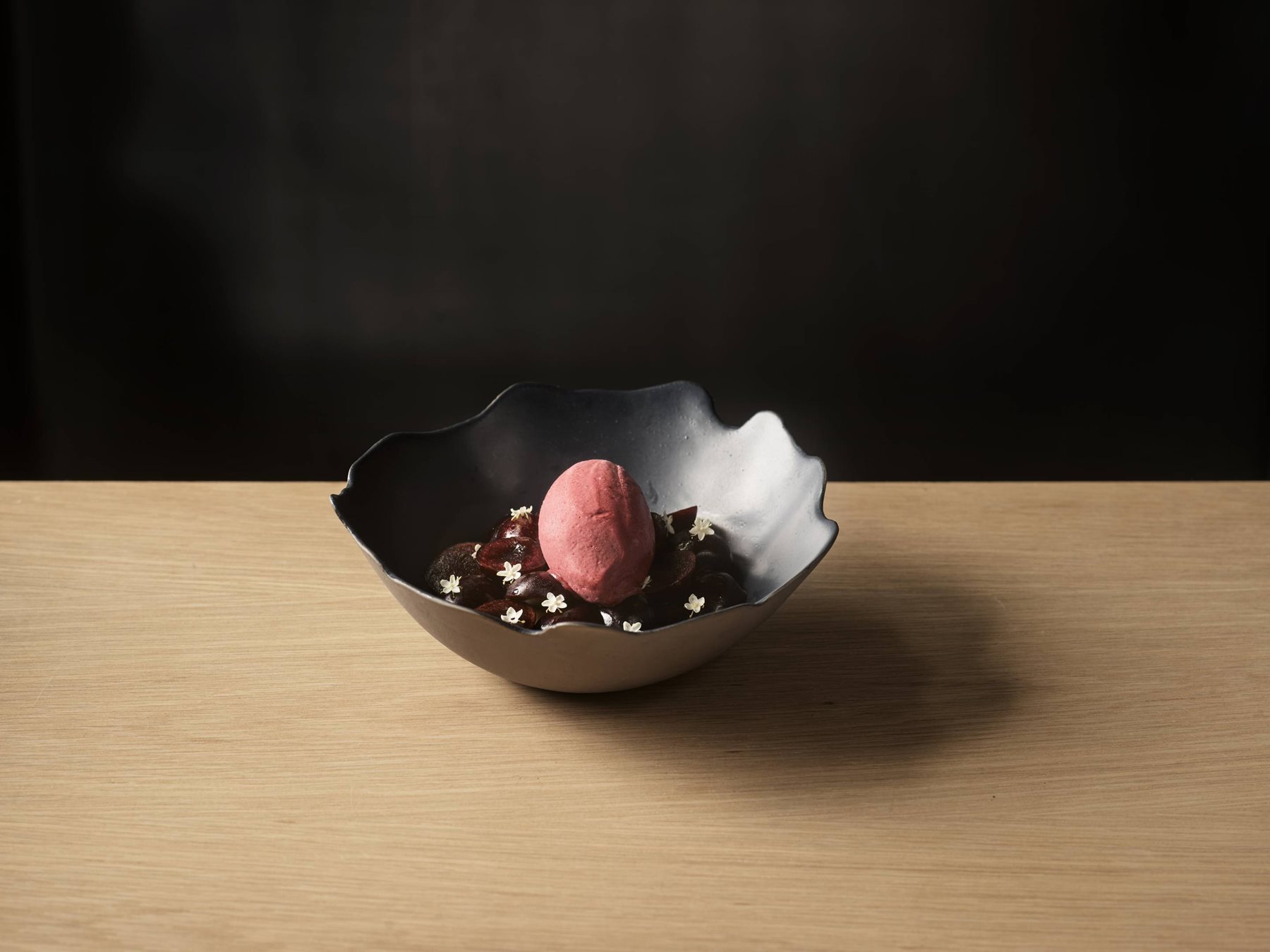 TERMS
The finer details
Discover all the finer details to make your time at Crown Sydney seamless and enjoyable.
Booking policy

Please note a 10% surcharge applies on Sundays. A 15% surcharge applies on all Public Holidays (one surcharge fee of 15% if Public Holiday falls on a Sunday). An additional service fee of 10% applies to bookings of 10 people or more.

We take note of your table preference; however, table location is subject to change. Your seats will be held for 15 minutes post your reservation booking time. Should you wish to cancel or amend your reservation, contact us at +61 2 8871 7171 at least 12 hours prior to your reservation.

The sale or transfer of this reservation is strictly prohibited.

Crown Sydney do not accept minors under 16 years old dining without a parent or guardian.
Cancellation policy

Credit card details are required to secure this reservation. No charges will be processed on your card at the time of booking. Should you wish to cancel or make changes, please contact us at +612 8871 7171 at least 12 hours prior to your reservation, or a cancellation fee of AU$100 per person will be charged to the card provided.

For private dining reservations and groups of 10 or more we require at least 72 hours notice should you need to cancel your reservation, or a cancellation fee of AU$100 per person will be charged to the card provided.
Allergies & dietary requests

Due to the potential of trace allergens in the working environment and supplied ingredients, Crown Sydney cannot guarantee completely allergy-free dining experiences.

Guests must advise the venue of any dietary requirements or allergies at the time of booking.
Dress standards
Parking

Limited parking is available on-site at Crown Sydney. Discover your most convenient way to visit including nearby carparks and various public transport options offered close by. Learn more.
Careers
Join our team at Woodcut
If you have a true passion for food and warm genuine hospitality together with a background of working in Premium and Hatted restaurants please email your CV to careers@woodcutrestaurant.com.au.